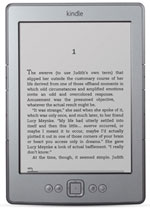 There is already a firmware update for the new Kindle 4, version 4.0.1. The update adds the ability to turn on and off full page refresh.
Like the Nook Touch and Kobo Touch, the Kindle 4 has a new way of refreshing pages. Instead refreshing the entire screen with every page turn, just the text is refreshed. This makes page turns faster and smoother plus the screen doesn't flash black with each turn, just once every six page turns.
Not everyone likes this new feature, of course. If that's the case you can download and install this new update. Otherwise just ignore it. It's not an automatic update; you have to download and install it manually. Here's how…
#1. Visit the Kindle Update page and download the 4.0.1 firmware update to your computer.
#2. Plug the Kindle into your computer with the USB cable and then drag and drop the update onto the Kindle drive, the root of the folder.
#3. To install the update on the Kindle, go to the Kindle's homescreen, press the menu button, and then select settings. From the settings menu, press the menu key again, then select "Update Your Kindle" from the list. Hit OK and that's it. It will apply the update and then restart.
The setting for turning on and off full page refresh is located on the third page of the settings menu. You can only choose to turn it on or off; you can's set page update frequency like with the Kobo Touch.