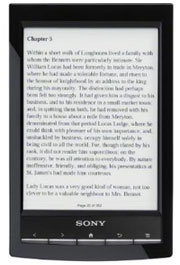 Since figuring out that the new Sony Reader Wi-Fi runs Android yesterday, I've had plenty of time to get familiarized with the PRS-T1's new user interface and design. So I put together this ten minute video review below to show the Reader Wi-Fi in action. I also decided to write some first impressions since it will be a few more days before I get started on the full review.
The first thing that jumps out about the new Sony Reader PRS-T1 is how different it is from Sony's other ebook readers. Not only is the operating system different, the switch from an aluminum body to plastic is a big change too. Personally, I don't like the change; the metal bodies are much nicer, classier, and are more balanced, plus they have a slot to house the stylus. But Sony had to shave cost somewhere to be more competitive, so you can blame the Kindle for that.
Update: Here's the link to the full Sony PRS-T1 review.
The Reader Wi-Fi has all the same features the earlier models had—notes, highlights, on-screen markup, dictionary, search, history, adjust contrast, etc—and it adds some new features too, like changing font type, pinch zooming, and downloading library ebooks directly to the device itself in addition to ebooks from Sony.
The new fonts are great. There are seven of them, and they're nice and dark. Landscape mode is a big improvement over the earlier Sony Readers too. The Reader is very comfortable to hold in landscape mode with your thumb on the page-forward button. Sony also fixed landscape so that it no longer overlaps on each page with grayed-out text. Each page is new text just like when reading in portrait.
The web browser works in landscape too. Speaking of web browser, scrolling and pinch-zooming are both surprisingly smooth and fast. You can even download ebooks in supported formats with the browser.
I haven't had time to try PDFs yet or the library downloads. I'll report on that in the main review, along with everything else. Subscribe to keep updated: Email, Rss Feed, Facebook, Twitter.
Reader Wi-Fi Video Review