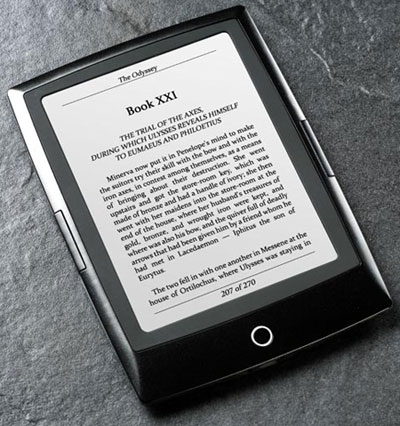 Bookeen, a well-established European ereader company based in France, announced a new ebook reader this week, the Cybook Odyssey.
What makes the Cybook Odyssey unique is the fact that it is the first ereader equipped with Bookeen's new High Speed Ink System technology, HSIS for short.
Bookeen says they've been working on the HSIS for two years and claim that "the Cybook Odyssey paves the way for a new generation of e-Readers" and that it has an "instantly reactive screen".
They give a few teaser details about the Cybook Odyssey but not much. It has a 6-inch E Ink Pearl touchscreen, Wi-Fi, and a modified 800MHz Cortex A8 processor.
The Cybook Odyssey will be released in Europe in the "forthcoming weeks" for an undisclosed price.
Below is a video that Bookeen uploaded to YouTube 4 months back showing how fast they've managed to get webpage scrolling on an E Ink screen, and provides a sneak peak of what to expect from the Cybook Odyssey. The caption for the video reads: "A new example of Bookeen's R&D innovation for the next generation of Cybook readers…"