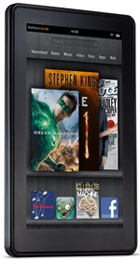 I just received an email from Kindle Support regarding the new firmware update for the Kindle Keyboard and the new archiving and syncing of personal documents feature that Amazon recently implemented.
There was some question as to whether or not the Kindle apps would be gettting archiving and syncing of personal documents and non-Kindle ebooks too, since that feature currently applies to the Kindle 4, Kindle Touch, and Kindle Keyboard only. Amazon confirmed in the email that the Kindle apps will indeed be getting these features too, along with the Kindle Fire.
Here's the quote:
"We expect to extend these archive and Whispersync features to Kindle Fire and Kindle apps (such as Kindle Cloud Reader, Kindle for Android, Kindle for iPhone, Kindle for PC, and Kindle for Mac) in the coming months."
Hopefully it doesn't take very many months because that is a really nice feature to have and isn't something any other ebook readers or ebook stores offer.
A lot of devices and ebook software allow users to sideload ebooks obtained from outside sources, but none sync and backup those titles in the cloud along with purchased titles.
If Amazon's competitors are smart, they will find a way to quickly replicate this feature. Are you listening Kobo and Barnes and Noble? Google is the most likely candidate for something like this given their cloud storage approach to ebooks and vast amount of storage space.
As I've said before, Google needs to add an ebook uploading option, and since Google supports EPUB and PDF, the most common ebook formats, they could bring in a lot of new customers that have fragmented ebook libraries scattered across various stores and devices.