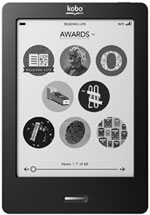 The Kobo Touch received some new features yesterday via yet another firmware update, version 1.9.12.
The most prominent new features the update adds is the ability to add notes to ebooks using the on-screen keyboard and changing how the device interprets page turns.
The notes feature only works on Kobo ebooks for the time being. When you hold down on a word and tap the icon to bring up the options, "Add Note" now appears on the list.
Once you add a note to a highlighted word or phrase, they get saved to an annotations list that is accessible from the pop-up menu when tapping in the center of the screen while reading. From the annotations list you can edit and delete the annotations, share them on Facebook, and view them on the page where they were added.
From the Advanced settings menu you can choose from three paging options. The new page turn settings allow you to customize where to tap on the screen to page forward, page back, and bring up the menu. This helps make the device more left-hand friendly.
Here's the release notes for the new firmware 1.9.12, now accessible from the Kobo's Device Information menu in Settings.
Make notes within a book while you read
Browse and edit your notes with the Annotations list
Customize how you tap on the screen to turn pages (including left-handed)
Full German dictionary now included
Faster highlighting within books
Kobo also updated their desktop software to add the new notes features to it too. With it you can add notes in ebooks and view and edit the annotations list as well.