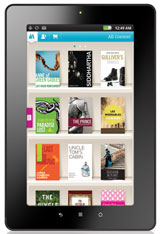 An email from Kobo turned up in my spam folder a couple of hours ago proclaiming the delay of the Kobo Vox. The Vox was supposed to start shipping on October 28th, but now it won't be going out until November 7th.
That's interesting because they've already started selling them in a number of stores in Canada, including Future Shop and Chapters. A number of folks have already gotten a Kobo Vox, in fact.
Here's what the email said:
Due to overwhelming demand, we are sorry to inform you that your order of the Kobo Vox™ eReader will not ship until November 7, 2011.

We sincerely apologize for the inconvenience, and as thanks for your loyalty to Kobo, we'd like to extend an offer of 25% off any selected book from the following list.

Use discount code: vox25oct28
Expiry: Nov 4th, 2011
Thank you again for your patience. We know you'll love the Kobo Vox™ eReader as much as we do.
Delaying orders is not a good way to win over customers, especially with the Kindle Fire and the Nook Color 2 about to be released. And it's worse when companies start selling the devices in stores before the pre-orders start shipping. That is a really strange way of doing business.
They should have sent those devices that went out to stores to the customers who ordered them first. That's how pre-orders are supposed to work.
What's really annoying is that I know I was one of the first few people to place an order because I happened to refresh Google Reader 1 minute after the official announcement. Apparently first come first serve means absolutely nothing when ordering a Kobo Vox.