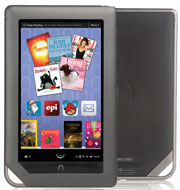 Barnes and Noble is starting to send out hints that they are getting set to release a new Nook, and since they already released a new E Ink device the year, the Nook Touch, that means the time is drawing near to upgrade the Nook Color.
The Wall Street Journal posted an article and video (embedded below) this morning about Barnes and Noble announcing this past Friday that they are going to be doubling the size of their Nook boutiques in forty of their most productive stores.
Nook boutiques are the displays that Barnes & Noble uses in their stores to demonstrate the Nook ereaders and Nook accessories. Currently these displays occupy about 1,000 square feet per store.
It certainly doesn't make any sense to double the size of Nook boutiques unless B&N has a new Nook incoming. The rumor mill has the new Nook set to be announced a week from Monday, eight days before the Kindle Fire starts shipping.
I have a feeling that the Nook Color 2 is going to give the Kindle Fire a run for its money. Amazon left out a few key features that Barnes and Noble could majorly capitalize on. Sure Barnes an Noble doesn't have the digital content that Amazon offers, the videos and music and cloud storage, but if B&N can put out a superior device for the same price, the Nook Color 2 could be hugely successful.