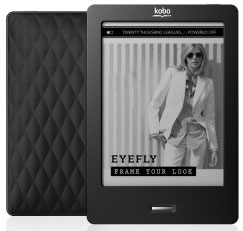 Kobo has taken a page from Amazon by jumping on the ad-supported ereader bandwagon. That's right. Kobo just quietly introduced the Kobo Touch with Offers for $99. That's $30 off the regular price.
Like the Kindle with Special Offers, the Kobo Touch with Offers features advertisements on the screensavers when the device is turned off or in sleep mode. It also has an ad the bottom of the device's homescreen. There aren't any ads in ebooks.
It's not surprising Kobo is finally trying this. The experiment has worked very well for Amazon, who now sell more Special Offers Kindles than non-ad Kindles. The good thing about the Kindle ads, though, is that they frequently offer coupons for saving money on purchases, kind of like a Groupon type deal, especially now that they offer localized deals in some cities. I wonder if Kobo will offer deals too; it would be a good way to offer coupon codes for discounts on ebooks.
The Kobo Touch is a 6-inch ebook reader that has an infrared touchscreen similar to the Sony PRS-T1 and Kindle Touch. It has 2GB of memory, a microSD card slot, Wi-Fi, a web browser, dictionary, notes, and highlights.
It supports Adobe DRM for EPUB and PDF, as well as TXT, RTF, CBZ, CBR, and MOBI. One of its nicer features is that it supports adding additional fonts. It also has plenty of text adjustment settings and partial page refresh that can be turned on or off.
Here's my review of the Kobo Touch from earlier in the year for more details about it.
By the way, the Kobo Touch with Offers is currently available in the US only. Funny how the US is the only country to get ad-supported ereaders….