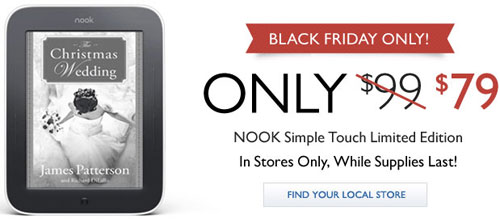 Barnes and Noble have a special limited edition Nook Touch deal for Black Friday.
For those brave enough to visit a Barnes and Noble retail store on Black Friday, you can get a Nook Touch for $79 while supplies last. That's $20 off the regular price.
Oh, but there's more. This isn't the regular run-of-the-mill Nook Touch. It is a special limited edition Nook. From the looks of the picture and the rumors floating around, this Nook Touch has a white back instead of black, and goes by the moniker "Nook Cream".
If you look closely at the picture you can see the white border. Personally I don't think I would like that. All black looks better. I like my Nook without any cream or sweetener. But to each their own.
If you happen to get lucky and nab a Nook Cream on Friday, let us know what you think.
If you miss this deal or don't want to endure the madness of Black Friday, you can always get a refurbished Nook Touch for $79. I picked one up recently and if it wasn't for the pre-owned sticker on the box I would never have known the difference.
P.S. If you hurry, Target is giving out $30 gift cards with the purchase of a Nook Touch in-store for $99 or a Nook Color for $199. This deal ends tonight at midnight!