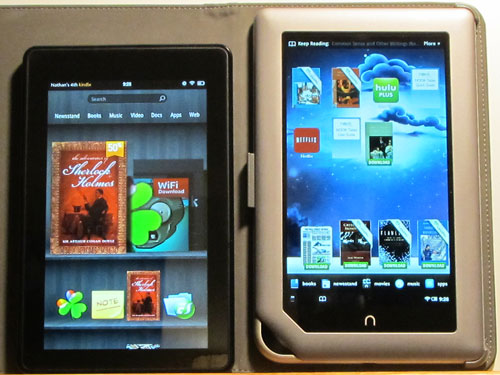 This Kindle Fire vs Nook Tablet comparison review outlines the similarities between the two most popular ereading tablets on the market, and details the advantages each one has over the other.
At the bottom of this post there is a video review comparing the Kindle Fire vs Nook Tablet side-by-side for a closer look. Trying to figure out which one to pick is not an easy task; I'm glad I don't have to choose. Hopefully this post can help you decide.
Also, you can find more details here on the Kindle Fire review. I haven't had time to get started on the Nook Tablet review yet, but you can find more info here on the Nook Tablet section of the blog, which includes a video review and first impressions post.
Kindle Fire vs Nook Tablet: Similarities
7-inch ISP 1024 x 600 resolution screens with 16 million colors.
Based on Android 2.3 operating system.
Similar ebook apps, ebook selection, and ebook pricing.
Both support sideloaded apps from other appstores, even each other's ereading apps; with the Nook Tablet the feature is hidden but it's easy to activate.
Same 1GHz dual-core TI OMAP4 processor.
Both support borrowing library ebooks.
Access to streaming video and music apps.
Newsstand for periodicals; periodicals come with 14 day free trial.
Both support Adobe Flash.
Both can be rooted and install the Android Market and Google apps, although the Nook is more limited because it is has a signed bootloader.
Available in the US only.
Kindle Fire Advantages
Cheaper: The Kindle Fire sells for $199 and the Nook Tablet sells for $249.
Amazon has way more Android apps, over 20,000+ vs Nook's 1,300+ (the Nook Tablet can install the Amazon appstore too, but you never know, B&N may close the loophole).
Amazon's video and music store are integrated into the Kindle Fire for access to 100,000 movies and TV shows and 17 million songs.
Unlimited free streaming of instant videos with Amazon Prime membership.
Borrow one ebook for free per month with Amazon Prime membership.
Amazon cloud storage: 5GB free cloud storage, plans start at $20 per year for 20GB.
Silk web browser is more advanced than Nook's stock browser and uses Amazon's servers to achieve faster loading times.
2 speakers vs Nook Tablet's 1; Kindle Fire's speakers are louder and sound better.
Kindle Fire is smaller and more compact at 7.5″ x 4.7″ x 0.45″ versus 8.1″ x 5″ x 0.48″ for the Nook Tablet.
More open to Android development; it turns out the Nook Tablet isn't nearly as hacker-friendly as the Nook Color was, custom ROMs may not happen.
Nook Tablet Advantages
16GB internal storage (just 1GB for non-B&N content, however).
MicroSD card slot for up to an additional 32GB storage space.
1GB of RAM versus Kindle Fire's 512MB.
Ebook app is a more advanced in that it offers sharing features, ebook lending, custom bookshelves, reading recommendations, and includes each book's description and reviews.
HD Netflix app on the Nook Tablet produces clearer looking videos than the standard definition Netflix app currently on the Kindle Fire.
Longer battery life: 9 to 11.5 hours vs 7 to 8 hours for the Kindle Fire (those are the official numbers; I'm not going to test because it is too time-consuming and there are too many variables, but I will say those numbers are close and the Nook's battery does indeed seem to last a little longer).
Nook Tablet weighs slightly less at 14.1 ounces versus 14.6 ounces for the Kindle Fire.
Has a microphone, and can be used to record personal readings of children's books.
Second generation device.
Comes with USB cable.
Another noticeable difference between the two that doesn't necessarily fit into the advantages category for either is the screen brightness and background color. When reading an ebook, the Kindle Fire's background is noticeably whiter than the Nook Tablet's, both indoors and outdoors.
Advantage Kindle, right? Maybe, maybe not. It depends on your personal taste. While the background isn't as white with the Nook, the light it emits doesn't project out as much, it's softer and less bright on your eyes. This is even more noticeable with both devices at half brightness, and is likely one of the reasons the Nook's battery life is longer.
Kindle Fire vs Nook Tablet Video Review
So which one are you going to choose? The Kindle Fire or the Nook Tablet
? Or do you have a different tablet in mind…