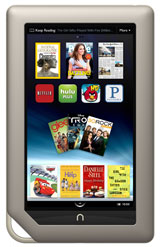 I've had the Nook Tablet
for over two weeks now and there are a lot of things I like about it, but there's one nagging detail that makes me uncomfortable to recommend it.
It was a mighty fine Easter egg when it turned out the Nook Tablet could install Android apps from outside the Barnes and Noble Nook appstore without rooting, but what if Barnes and Noble decide to close the loophole that allows this?
If so, the Nook Tablet would instantly go from being awesome to super lame. Having the freedom of being able to load Android apps and alternate launchers from Amazon's appstore and other appstores and websites makes the Nook Tablet a real tablet.
If we are forced to rely solely on the Barnes and Noble Nook appstore, which only has about 1500 apps with very few free apps, the Nook Tablet is more of an expensive color ereader than a tablet. B&N doesn't have the content to pull off a true tablet experience, not even close. The best they can do is offer apps for content through third-parties like Netflix, Hulu, and Pandora—all of which are available on just about any tablet.
Another issue with the Nook Tablet is that it has a signed bootloader. That's dev talk for "it's nearly impossible to crack". The custom Android ROMs and N2A cards that were so popular on the Nook Color may never happen on the Nook Tablet because of the signed bootloader. B&N put a major lock on the Android development of the Nook Tablet. That hasn't stopped developers from rooting it and installing the Android Market, at least, but it has majorly slowed things down.
I wonder if B&N intentionally left the Nook Tablet open to allow the installation of third-party apps. It seems like a big detail to overlook, especially when the loophole that allows it can probably be closed in about 5 seconds by someone who knows what they are doing. Maybe they decided to let advanced users have that option instead of closing the door entirely. That way the Nook Tablet's B&N features are still at the forefront instead of being hidden like they are when using ROMs.
Hopefully B&N will continue to allow Nook Tablet owners to install third-party apps without hacking, but you never know. I guess we'll have to wait until the Nook Tablet gets its first firmware update to know for sure. One thing to consider, the Kindle Fire openly allows users to install third-party apps. If B&N were to remove this hidden feature from the Nook Tablet, it would be a big win for Amazon. I don't think B&N is that stupid, but then again they are dumb enough to insist on using their own ePub DRM, thus locking out all the millions of potential customers with Sony Readers, Kobo Readers, and all the other ePub-supporting ereaders from buying ebooks from them.