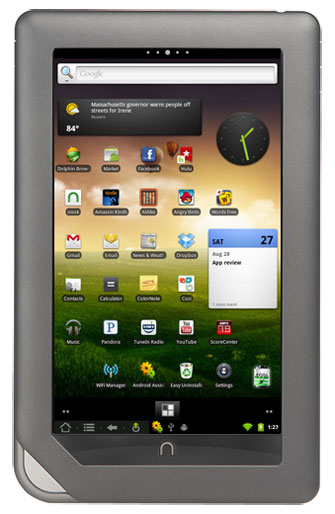 So I've been trying out an N2A card on my Nook Color for the past couple of weeks and I've gone from being somewhat skeptical at first to considering starting my own line of Nook Color ROMs (just kidding, there's too much technical work and red tape involved).
For those of you unfamiliar with N2A cards, they are microSD cards sold on Amazon.com for the Nook Color that essentially turns the Nook into an Android tablet. All you have to do is put the N2A memory card in the Nook Color, turn it on, and you have an Android tablet running Android 2.3.4 with the CM7 mod, complete with Android Market access and the whole nine yards. Plus the N2A cards are dual-boot cards now so you can choose to run the Nook Color regularly too, so you still get the latest B&N features and updates.
At first, I thought selling ROMs was kind of shady because why would anyone want to pay extra for a microSD card with CM7 already installed and ready to go when you can just do it yourself for free?
But then I went over and reread my CM7 install tutorial. It's only 9 steps all the way through setting up Android Market, but still, even just reading the directions takes longer than setting up the N2A card to 100% ready to go download apps and start enjoying the Nook Color's hidden Android goodness.
I then went through the entire process of setting up a CM7 card following my own directions to see how hard it is and how long it takes (it's been 4 months and I forgot how exactly). From start to finish, it only took me about 15 minutes to get CM7 installed and running on my Nook Color, and a good share of that time was waiting for files to download. It went fast because I already had all the necessary components on hand: a spare microSD card, microSD card reader adapter for my PC, and an image-writing program installed (WinImage).
But then I hit a major snag trying to get the Nook Color to boot into recovery mode in order to install Google Apps. Apparently certain versions of CM7 won't boot into recovery mode. So 1 hour later, after trying different methods and searching for a fix, I finally got a version of CM7 that would boot into recovery mode and it was good to go.
The point is, doing it yourself isn't all that difficult but it can end up taking a lot of time and patience and research, especially if you haven't done anything like this before or aren't very technically inclined. That's the whole point behind the N2A cards: everything is already setup and running in good order, with Android Market, Flash that supports Hulu (although I didn't have much luck with this; it's a little too laggy for my taste even set at 288p), and a ton of pre-installed apps ready to go (listed below). Plus, if you have any problems you can contact N2A support and they will answer your questions (I haven't had to contact support personally, but a number of reviews on Amazon speak favorably of N2A support).
Aside from being easier to setup, I like the fact that the N2A card is a dual-boot card and comes with some good apps already pre-installed. When you set it up yourself, there's just a minimum of apps pre-installed, so you end up spending more time loading apps and getting started. And if you want a dual-boot card, you'll have to research how to do that on your own since the regular CM7 install doesn't include that.
So now I definitely do see the benefit of N2A cards, and would recommend them to fellow Nook Color owners. Stick in a N2A card and it's like getting a whole new device all over again. Plus you can easily go back to your regular Nook Color at anytime. It doesn't change anything internally with the Nook and doesn't even void the Nook's warranty, so you've got nothing to lose.
There are three versions of N2A cards. The cheapest is an 8GB card that sells for $34.99, the 16GB cards is $49.99, and the 32GB card is $89.99. I was given the 16GB card for this review. It is a class 4 SanDisk microSD card, which is currently listed for $22.17 plus shipping on Amazon. So once you subtract that, you are really only paying about $25 extra for the N2A setup and support—not bad, really. There's also a N2A website setup for support-related questions and help.
Nook Color N2A Video Review
N2A Card Included Apps August 2011
Adobe Flash (the version that supports Hulu, so don't update unless you want to lose that)
Adobe Reader
Alarm Droid
Aldiko
Amazon Kindle
Android Assistant
Android Browser
Android Calculator
Android Calendar
Android Market
Android Music Player
Angry Birds
Color Note
Contacts
Cozi
Dev Tools
Dolphin Browser HD
Dropbox
DSPManager
Easy Uninstaller
Email
ESPN Score Center
Facebook
File Manager
Gallery
Gmail
Google Books (eBooks)
Google Maps
Google Search
Latitude
Movie Gallery Free
News and Weather
Nook
Pandora
Places
Spare Parts
Superuser
Talk
Terminal Emulator
Theme Chooser
TuneIn Radio
Voice
WiFi Manager
Wallpaper Backgrounds
Windows Hotmail
Words with Friends
Yahoo Mail
YouTube
Note: Apparently NetFlix doesn't come pre-installed because of licensing issues, but it does work if you sideload the app. Here's more info about NetFlix on the Nook Color, along with the link to download the apk.