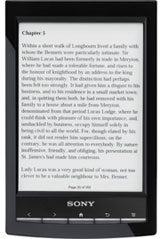 Sony has issued a firmware update for the Sony PRS-T1 ebook reader. The update is supposed to fix some bugs like the freezing and random page flipping issues that some users are experiencing (not me, luckily).
In order to install the update, you need to connect your Sony Reader to your computer with the USB cable and then launch the Sony Desktop software. If it doesn't prompt to install the new firmware automatically, hit the help button then "check for updates".
If you don't have or don't want to install the Sony desktop software, you can download the update file and install the update manually. The directions and download are currently only available on the UK Sony site. The US Sony site is showing an older firmware update from a couple of weeks ago (the date is wrong, btw, unless there's been some kind of time warp no one is telling me about), but they should be adding the newer file soon.
It's strange that Sony doesn't provide their firmware updates over the air like other ereader companies. Unless you follow a blog like this, how does Sony expect users to find out about the new updates? Most people don't use the Sony desktop software, and for good reason: it stinks!
The firmware update is quite large at 103.8 MB. Here's the change-log that Sony gives:
This update is applicable for PRS-T1 (1.0.03.11140) to address the following issues:

– Improved touch panel functionality
– Improved stability when searching the dictionary
– An Internet connectivity problem which only appears under certain conditions is fixed.
– Improved DRM contents compatibility
So, did the update fix the issues you were experiencing? I wasn't having any problems so everything seems the same to me.