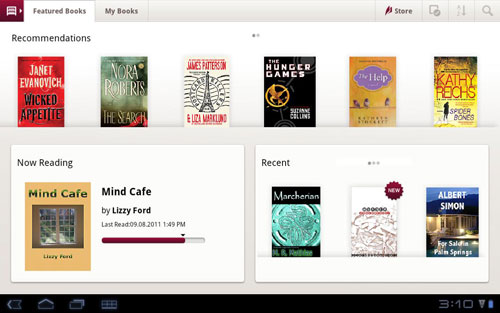 Back in September Sony released a tablet-specific Sony Reader app for Android. At the time it was only compatible with the Sony Tablet S, but they said it would be updated to support other tablets in early December.
I happened to remember this fact yesterday so decided to check the Android Market to see if Sony had updated the Reader for Tablet app. And they have. It now works with any tablet running Android 3.0 and up.
I installed the app on my Asus Transformer to test. All in all it's an okay ePub app. The presentation is nice and I like the two page landscape mode. There's not a lot of features, just search, bookmarks, table of contents, adjust text size, and highlights, the latter isn't very functional because it is nearly impossible to get the highlight to start and end exactly where you want it.
It's probably one of the better free PDF apps. It remembers what page you are on, has pinch-zooming, active hyperlinks, table of contents, search, and highlights.
One of the more surprising things about the Reader for Tablet app is that it supports Adobe DRM for ePubs and PDF ebooks, meaning you can load ebooks purchased from outside the Sony ebook store into the app, and probably library ebooks too.
The downside of this is that you have to sign in with your Adobe ID immediately after signing into your Sony account.
I couldn't sign in because my Adobe account is maxed out yet again with too many authorizations, an unpleasant side-effect I encounter all too often having to review a number of devices and apps each year (at this point I think it would be easier to start stripping the DRM from all my ePubs and say nuts to Adobe altogether).
Anyway, after bypassing the login screen you can still use the app for ePub and PDF files. In fact the app scans your device upon opening and automatically adds all the ePub and PDF files it can find.
If you own a Sony Tablet S, you can get a free ebook for downloading and installing the Reader Tablet app and authorizing it with the Sony ebook store by January 3rd. Sony will send an email with a code to download your choice of one of the following seven ebooks:
The Ultimate Little Martini Book by Ray Foley
The Inside Ring by Mike Lawson
The Pawn by Steven James
Diamondhead by Patrick Robinson
The Name of the Rose by Umberto Eco
Ice Hunter by Joseph Heywood
Tony Wheeler's Badlands by Tony Wheeler