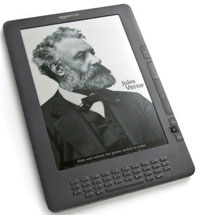 If you are in the market for a large ebook reader, the Kindle DX is on sale today only at Woot.com for $199 plus $5 for shipping.
This is the lowest price on the Kindle DX yet. Amazon ran a sale over Black Friday weekend for the Kindle DX, selling it for $279 new. But this is even better. Refurbished units are often ones that people returned. They've been inspected and tested and come with the same 1 year Kindle warranty so they are a pretty safe bet.
This is the latest generation Graphite Kindle DX with a 9.7″ E Ink Pearl display. It comes with free 3G global wireless but no Wi-Fi like the newer Kindles. It has 4GB of memory, a g-sensor that automatically rotates the screen orientation, built-in speakers and a headphone jack for listening to music, audiobooks, and text-to-speech. The battery will last for 1-3 weeks.
Because of the larger screen size, the Kindle DX is more suited for PDF files than the smaller Kindles. But it doesn't offer as many features. It is good for viewing PDFs but not for annotating or anything advanced. Not unless you're smart enough to setup the Kindle DX to run the Kindle 3's software.
For more information about the device, check my Kindle DX review and Kindle DX PDF review.