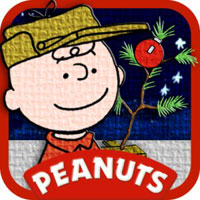 Amazon is giving away A Charlie Brown Christmas today in the Amazon Appstore as the free Android app of the day.
This is an interactive book narrated by Peter Robbins, the original voice of Charlie Brown, and includes digitally remastered illustrations, animation, music, and the original dialog and voices from the cartoon version of A Charlie Brown Christmas that has been running since 1965.
I already downloaded this app and gave it a run through. It's a great app and deserves 5 stars. Kids will love it. In addition to the classic storyline and original voices, there are interactive features on each page. You can touch the characters to make them move and make noises, touch stars and falling snowflakes, find Christmas ornaments, etc. Here's an excerpt from the description for more about the interactive features:
This version of A Charlie Brown Christmas is bursting with fun interactivities that will delight children and adults alike. Go caroling with the Peanuts choir, finger-paint with the gang, and participate in the Spectacular Super-Colossal Neighborhood Christmas Lights and Display Contest to unlock decorations for your very own Charlie Brown Christmas Tree. You can even play Schroeder's piano (to the tune of "Linus and Lucy", of course). Note highlighting helps to introduce and improve musical skills.
These types of apps are also a good learning tool for young kids. As the narrator reads the story, it highlights each word along the way. And you can also press each word to have it spoken aloud. The piano is a nice touch too, it even teaches you how to play Jingle Bells.
The app is quite large at 47MB and requires Wi-Fi for download. It works with Android tablets and phones running Android 2.2 and newer. Finally a free app of the day that pertains to ereading!