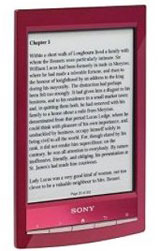 Yesterday, thanks to a tip via MobileRead, I discovered a simple trick to get the Sony PRS-T1 to enter into a semi-permanent partial page refresh state. This is very handy for scrolling through lists like with the Dropbox app and root explorer, and makes some games and other Android apps work better too.
This probably works on non-rooted Sony Readers as well but it's only going to be useful on a rooted Sony PRS-T1 because using the Sony apps (the browser, homescreen, and Reader app) resets the partial refresh back to normal.
Here's how to enter the partial refresh state: When scrolling and pinch-zooming with the PRS-T1's web browser there's a 1-2 second delay before it sets the screen. Just scroll or zoom with the browser and then quickly tap the top of the screen to open the notifications bar. Do it fast enough before it sets the screen and then the Reader will remain in a semi-permanent partial refresh state.
Use the shortcuts bar, Android launcher, and back button to navigate. Using any of the Sony apps will reset it back to full page refresh.
What's cool is that you don't even have to be connected to the internet; the browser will open with the last web page visited already showing so you can just quickly enter the partial refresh mode and then jump back to the Android homescreen with the notifications bar and make use of the partial refresh trick.
It makes using the Dropbox app, file manager, using the settings menu, and anything else that uses list and scrolling ten times easier. It also works to give other ereading apps like FBReader and Kindle partial page refresh. But the quality isn't very good because the text is rougher and less dark than with full page refresh turned on so it's not going to be very useful for that.
Here's a video showing the partial refresh trick in action, along with a couple of other things like using text-to-speech on the PRS-T1 with FBReader and using an alternate homescreen.
Sony PRS-T1: Enabling Partial Refresh, Text-to-Speech, etc