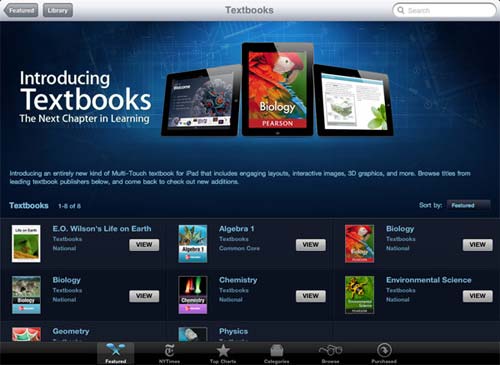 The big news this week was Apple taking a big step into the eduction sector by releasing a new updated version of iBooks that supports interactive digital textbooks on the iPad.
Apple also introduced iBooks Author, a new app for Mac for creating and publishing those fancy new digital textbooks, along with cookbooks, picture books, and other interactive books.
Apple released a dedicated app for iTunes U as well, a service for teachers and students to create and manage courses online for everything from lectures and assignments, to books and test. And now iTunes U gives users access to the world's largest catalog of free educational material from top universities such as Cambridge, Duke, and Harvard. But the biggest thing with the iTunes U app is that college students can use it to take entire courses, and any K-12 school district can now offer full courses through the iTunes U app as well.
Apple aims to "reinvent the textbook" with the new iBooks 2 app, where textbooks generally sell for $14.99 or less and come upgrades that paper textbooks can't offer, such as interactive 3D images and diagrams, embedded videos and audio, content updates, on-screen notes and highlights, dictionary, and more.
Apple has already partnered with the three biggest textbook publishers: Pearson, McGraw Hill, and Houghton Mifflin Harcourt, as well as DK and the E.O. Wilson Foundation.
Here are the links for the new apps:
iBooks 2: Textbooks for iPad
iBooks 2 Textbooks Review