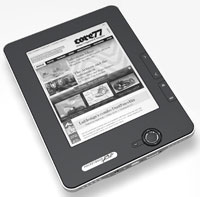 Earlier in the week, PocketBook's RSS feed pinged about new firmware for the PocketBook Pro line of ebook readers. The actual news article is dated December 16th and the firmware is dated December 15th, so who knows why they waited so long to announce it officially.
The new firmware, version 2.1.2, is for the PocketBook Pro series and includes the touchscreen models and non-touchscreen models—the Pro 602, 603, 912, and 902. The new firmware adds some significant changes. Mostly good.
I have the PocketBook 602 and haven't used it in several months so I thought I would bust it out (surprisingly the battery was still over half charged) and give the new firmware a test drive.
Here's a quick overview of the new features:
Multitasking: hold down the back button to bring up a list of recently open books and opened apps to quickly move between them. This works especially well for jumping back and forth between books, and it does it as fast as turning a page. You can have as many as 10 ebooks or items open at a time.
New homescreen icons and library view. The library view is much less confusing than it used to be, with more sorting and searching options. The menu fonts and homescreen icons are much darker now too, and operation is generally faster.
"Open page" feature shows a preview of the last four opened pages.
Touchscreen devices get a new web browser and some new annotation features and can double-tap words to hear them read aloud.
Here's the link to the release notes (PDF) for more complete details.
Overall the new firmware is a nice improvement. However, my PocketBook 602 has frozen up a couple a times while testing it and it sometimes takes forever to initially open an ebook.
Other than that, the new firmware has given me an opportunity to remember just how nice the PocketBook 602 is. It's built really well and offers a ton of features, including some that no other ereaders have. About the only thing PocketBook's Pro line doesn't offer is a Pearl screen. It's odd that they're are still using the older Vizplex screens, even if the difference between Pearl and Vizplex isn't that significant.
To get the new firmware, hit the PocketBook support page and choose your model. The install directions and user guides can be found there as well. Basically, just download the new firmware to your computer, extract it, then drag and drop the contents to the root of the PocketBook drive or memory card. Power off the PocketBook, then turn it back on and hold down both page-turn buttons to prompt the firmware update screen. Then follow the on-screen directions to apply the update.