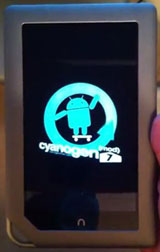 Good news for Nook Tablet owners. A lot of progress is being made on getting custom ROMs up and running on the Nook Tablet ever since devs cracked the Nook Tablet's locked bootloader.
The devs at XDA have even managed to get CM7 to run on the Nook Tablet, although there are still a few key things that need to be fixed such as Wi-Fi and sleep mode.
Surprisingly most all of the other key features are working: the touchscreen, orientation sensor, sound, microSD card, and even hardware video acceleration.
From a software standpoint, it is running the full tablet version of Cyanogen Mod 7, complete with root access and Google Apps. CM7 is a custom version of Android 2.3 Gingerbread. CM7 ROMs have worked on the Nook Color for a long time.
The main things that still need to be fixed before Nook Tablet CM7 ROMs become available to the masses is Wi-Fi (it turns on but won't connect) and sleep mode (if it goes to sleep it won't wake up!). The brightness control is another thing that isn't yet functional.
It's good to see this much progress being made on custom ROMs for the Nook Tablet but the one I'm really looking forward to is a CM9 ROM. CM9 is based on Android 4.0 and provides a more advanced and intuitive tablet-specific interface. Still, CM7 is a significant step up from the Nook Tablet's stock software.
Nook Tablet CM7 Alpha Build 2 Video