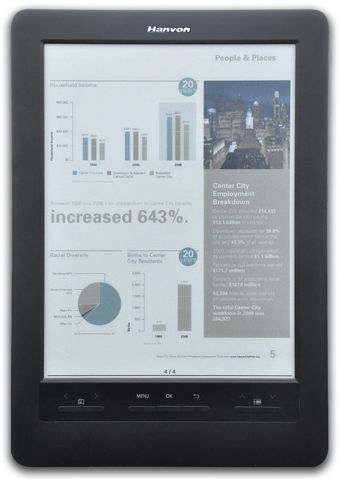 The Jetbook Color isn't the only color E Ink ereader. The same company that makes the hardware for it also has their own model that uses the same color E Ink Triton display.
It is called the Hanvon WISEreader C920. Its design appears to be very similar to that of the JetBook Color but it is black instead of white, and looks to have more of an ebook-oriented software, whereas the JetBook is designed for the education sector and comes with software designed for students and teachers.
Plus the Hanvon WISEreader C920 has a touchscreen that works with both your fingers and a stylus, whereas the JetBook Color supports stylus touch input only.
Back in November 2010, Hanvon announced that they would be the first company to release a color E Ink ereader. It was supposed to be released in China in March 2011, but that never happened.
At some point they released a similar model, the Hanvon WISEreader E920, with a black-and-white screen, not color. It uses the same 9.7″ 1600 x 1200 resolution E Ink screen, though. And appears to have all the same features as the color model, the C920.
But as far as I can tell, the color Hanvon WISEreader C920 hasn't been released yet, not even in China. It's listed on Hanvon's website, but internet searches turn up nothing from any retailers, just the E920. I wonder if Hanvon plans to release the C920 in the US—it says it has an English menu interface—or if they just plan to make the hardware for other companies like they did with Ectaco and the JetBook Color.
Hopefully the Hanvon WISEreader C920 will make an appearance at some point, if even in Asia. Right now it's not clear what Hanvon intends to do with it.
Hanvon WISEreader C920 Specs
9.7″ Triton Color E Ink screen.
1600 x 1200 resolution.
800MHz processor with 256MB RAM.
4GB Storage.
Touchscreen: fingers and stylus.
Wi-Fi, 3G optional.
Supports on-screen handwriting and notes.
10,000 page turn battery life.
MicroSD slot for up to 32GB.
Audio player and 3.5mm headphone jack.
Microphone with voice recorder.
Contact list, agenda.
Games: Chinese Chess, Gobang, and Sudoku.
Supports Adobe DRM and the following formats: TXT, HTXT, HTML, PDF, EPUB, DOC, XLS, JPG, TIF, BMP, PNG, GIF, WAV, WMA, MP3.
Weight: 554 grams.
Dimensions: 270 x 188 x 11.5mm.