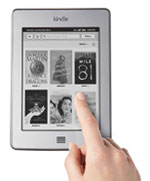 Amazon has issued another firmware update for the Kindle Touch. It is a minor update that Amazon describes as adding "general software improvements".
I was hoping the update would add landscape mode to the Kindle Touch, but alas Amazon doesn't seem to think that is an important feature—there are lots of people that disagree with that notion, especially when all the other Kindles have landscape mode.
The strange thing is hackers didn't have any problem adding landscape mode to the Kindle Touch. You'd think by now Amazon would have added it. After all, the Kindle Touch has been out for three and a half months now. At this point it's fairly safe to assume that it's never going to happen.
I like the Kindle Touch. It's a good solid ereader, especially when it can be had for as low as $99, but new devices are supposed to get new features, not remove old ones. Amazon already took away 3G web browsing on the Kindle Touch and the ability to highlight words and phrases in a book to search on Wikipedia and Google.
The 5.0.4 firmware update will be delivered to all Kindle Touches over Wi-Fi in the coming weeks. Or if you want to give it a go right now you can download the update from Amazon. Just put the file on the Kindle's root folder, then from the homescreen tap Menu > Settings > Menu > Update Your Kindle. It will reboot a couple of times and then it will be good to go.
I downloaded and installed the new 5.0.4 firmware update and can't find any noticeable differences whatsoever.