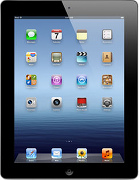 I've pretty much had eyes glued to the new iPad since it arrived last week. I haven't even taken time to write any blog posts for three days so I guess it's time to put the iPad down and get back to work :).
I managed to put together the first page of the iPad 3 review. It contains a video review and some thoughts on various aspects of the new iPad. But no pictures because I found it was too difficult to effectively show the new high resolution screen. Even screenshots are just too large—the file size—to embed without cropping and shrinking, which negates the benefit.
I plan on adding a lot more to the review in time, including reviews of specific ereading apps and some comparisons and tutorials. But I'd rather be playing video games, surfing the web, or reading on the new iPad so it might be a few days :).