How to Root the Pandigital Planet and Install Google Apps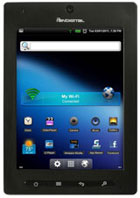 The one question that I've been getting asked more than anything else here lately is how to root the Pandigital Planet and install Google apps to get access to Google's Android appstore.
The Pandigital Planet is an inexpensive Android tablet that runs Android 2.3.4 Gingerbread (at least it is supposed to; mine is stuck on 2.2.1 and won't update). It has a decent amount of features for the price but doesn't come with any Google apps. So here is. The tutorial on how to root the Pandigital Planet to get access to the Android Market (Google Play).