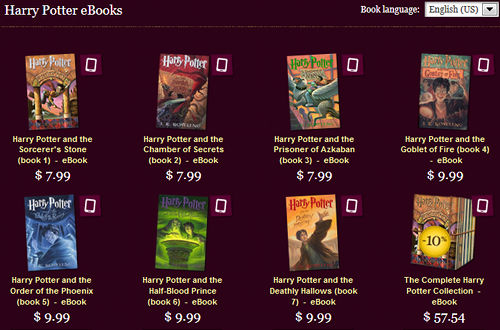 The long wait is over. Today marks the official release of Harry Potter ebooks and audiobooks!
The surprise announcement came early this morning and now all seven ebooks and audiobooks in the fantastically popular Harry Potter series are available for purchase from the Pottermore website.
Pottermore is the exclusive distributor of Harry Potter ebooks. However, after making a purchase you can select to send the ebook to your ereader accounts for Amazon, Barnes and Noble, Sony, and Google. For all other platforms you simply download the EPUB file directly for sideloading.
Harry Potter ebooks don't use traditional DRM that requires you to use specific software to open them. Instead your account ID essentially gets tied to each ebook you purchase; it is show on the copyright page.
In order to buy the ebooks you have to setup a free account at Pottermore. Right now the ebooks are available in US and UK versions. French, Italian, German, and Spanish versions are coming soon.
Harry ebooks are compatible with all ebook readers, as well as computers, smartphones, and tablets with any EPUB-supporting app, such as Aldiko.
The ebooks, unfortunately, are not cheap. The entire box set will set you back $57.54, and that's 10% less than purchasing each title individually. Meanwhile Amazon sells the entire paperback box set for $50.85.
Amazon, Barnes and Noble, and Sony have already started advertising the Harry Potter ebooks on their ebookstores, and each directs to the Pottermore website for download. It's a unique compromise all have engaged in, especially considering the Pottermore website is run by Sony.