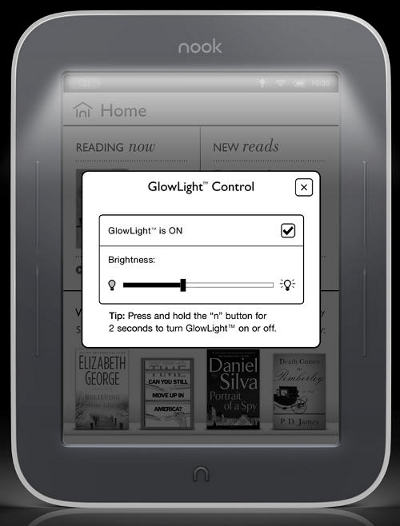 Barnes and Noble officially announced the new Nook Touch with GlowLight today. It is up for pre-order right now from Barnes and Noble with a release date of May 1st.
The new Nook Touch is pretty much a twin to the original Nook Touch in size, shape, and functionality, but it comes with a nifty reading light built-in for reading at night.
Surprisingly, the GlowLight doesn't appear to be Flex Lighting as was expected. Instead it is something Barnes and Noble created themselves. You can see where there is a small LED light strip along the top edge where it is brighter (see the videos below, not the Photoshopped marketing photos).
The GlowLight is turned on and off by holding the Nook's "n" button below the screen. And there's also a brightness adjuster accessible in the menu to set the brightness at the level you want it.
The light doesn't seem to have a huge affect on the battery. B&N claims the Nook Touch with GlowLight can get over 1 month of battery life per charge when using the light, 2 months when not using it, the same as the original Nook Touch. That's when reading for half an hour per day.
Aside from the light, the only differences between the GlowLight Nook and the original is the the new one is slightly lighter—about half an ounce—and it has a light-colored border instead of black. The new Nook also comes with a built-in anti-glare screen protector to aid with the GlowLight.
The original Nook Touch still sells for $99 new, $79 refurbished (sometimes less), and the GlowLight Nook sells for $139. That seems kind of expensive for a light—a lot of people will still probably get the non-lighted Nook and save $40, but the new one also comes with a power adapter that costs $10 extra with the other Nook, and it has the built-in screen protector, so that offsets the extra cost somewhat.
Here are a couple of videos showing the GlowLight in action.
Video Tours of Nook Simple Touch with GlowLight