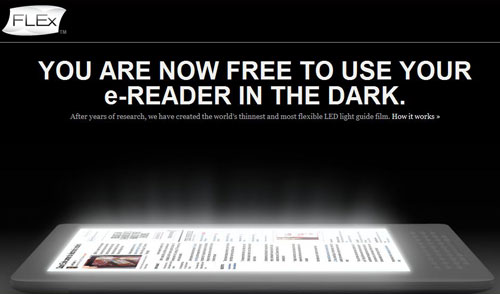 A reader tipped me a few weeks back about this Flex Lighting website that advertises a new type of lighting technology designed for ebook readers with reflective displays such as E Ink.
One of the shortfalls of E Ink ebook readers like the Kindle and Nook is that they can't be used at night or in low-lighting conditions without an external source of light because they emit no light themselves. They require a lamp or reading light just like paper books.
Flex Lighting aims to change that with their new front light LED film. The lighting film goes on over the top of the screen during the manufacturing process, and can be as thin as 50 microns. It is supposedly invisible, even at angles, and works with touchscreens too.
When turned on the film produces a soft, uniform glow that draws minimal power because of the efficiency of LEDs and the fact that only 1-2 LEDs are required for a 6″ screen. It works with both color and monochrome displays. This could be the edge that color E Ink needs to become more popular.
I exchanged a few emails with the president of Flex Lighting, Mike Casper, and he says they have working prototypes, but they can't release any pictures of them just yet. He was able to send over a fact sheet about Flex front lighting film. I thought about summarizing it but I didn't want to leave anything out so here it is below:
FLEx Lighting E-Reader Front Light Fact Sheet

What is FLEx's front light?

FLEx Lighting has developed the world's first viable front light for reflective display based e-reader devices. Their lighting system allows readers to finally read in the dark and for manufacturers to bring color e-readers to life.
Chicago-based FLEx Lighting (flexlighting.com), an innovative lighting company, has been developing the world's thinnest film-based light guides for several years and has recently perfected their use with e-reader devices.
FLEx's e-reader front light is 10 times thinner than other front lights, which allows their front light to remain crystal clear even when viewing the screen from an angle.
FLEx's front light only uses 1-2 LEDs for a 6" display keeping power consumption extremely low.

How FLEx's front light works:

FLEx's film is laminated to reflective displays of various sizes (mobile phones, e-readers, tablets, etc.) in the manufacturing process and provides an embedded light for a superior viewing experience.
The thin film allows light from an LED to be directed at the screen. This light reflects off the display and provides a soft glow for the reader unlike the intense lighting from an LCD screen.
When the light is turned off, the crystal clear film is completely invisible. This allows the e-reader to still be used in sunlight.
FLEx's film can be integrated in with B&W or color screens and does not alter performance when used with touch screens.
When FLEx's front light is used with RGB LEDs, colored e-paper displays appear more vivid than without a front light.

Why FLEx's new front light matters for users of e-reader devices:

Allows a user to reader their e-reader in the sunlight AND in the dark.
Users can turn on the light only when they need it, keeping power consumption low to maintain battery life for several weeks before recharging.
Soft glow of the screen still maintains a comfortable reading experience unlike the glow from an LCD screen.
Avoid the need for ugly and cumbersome clip-on snake lights which block the screen from the reader's view.
Place your hand or fingers on the screen without creating a shadow while reading.

ABOUT FLEX LIGHTING: www.flexlighting.com
Founded in 2004, Chicago-based FLEx Lighting has pushed the limits in pursuit of the world's thinnest lighting systems using LEDs and thin film. With immediate uses in consumer electronic displays and signage, the FLEx ultra-thin and transparent illuminated film can be customized for a wide range of applications. Years of light guide research and development has helped FLEx build an international patent portfolio that is ever expanding as the company continues to pursue the frontier of illuminated films. With continuous research and development efforts and a network of contract manufacturers, FLEx is incorporating the use of this technology to the e-reader devices of the future.
If everything works like they say it does, Flex Lighting could be huge. A completely invisible layer over the screen that emits light when needed is exactly what ebook readers need, as long as the film layer doesn't create extra glare or touchscreen problems.
Hopefully Flex Lighting can get their product incorporated into some ebook readers in the near future. It certainly looks promising, especially for color E Ink screens.