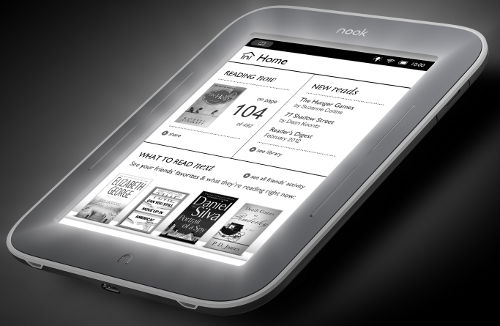 Barnes and Noble has started shipping out their new Nooks with frontlit screens a week earlier than expected. They did the same thing with the Nook Tablet so that's not surprising.
Initially the Nook Glow was slated for a May 1st release, but display units have started arriving in some stores this week and now pre-orders are going out too, so it's good to see it arriving early.
However, on Barnes and Noble's website they've changed the date the Nook becomes available from May 1st to May 7th for pre-orders. Maybe they've got a backlog of orders. You might have better luck finding one in stores before then.
Update: Some folks are getting shipping notices today for new orders. B&N officially announced they are shipping the Nook early and that stores will have demo units but limited stock on hand, and advise "For those who would like to give NOOK Simple Touch with GlowLight as a gift for Mother's Day, we strongly recommend pre-ordering the device now in stores or online as we will have very limited quantities based on the larger-than-expected order volume we've received so far.".
In case you missed it, the Nook Touch with GlowLight is a 6″ E Ink ebook reader that is 90% the same as the original Nook Touch, but it has an LED frontlight built into the screen for reading at night. The light can be turned on and off and the brightness can be adjusted.
I received a shipping notice for the new Nook last night, and it is expected to arrive later this week. I'll post a video and first impressions review by the weekend. Subscribe to keep updated!