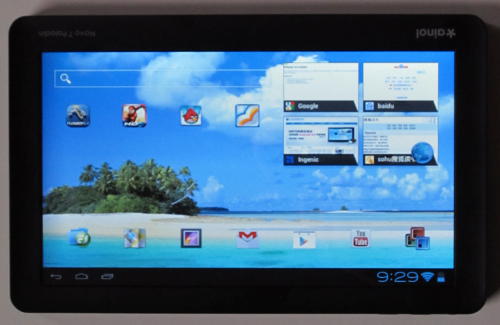 A while back I reviewed the Novo 7 Paladin, a cheap Android tablet from China that sells for around $100 on Amazon. Out of the box it came with Android 4.0.1 and included a watered-down version of the Android Market (not very many apps showed up).
As mentioned in the review, I found an official update for newer firmware for the Novo 7 Paladin for Android 4.0.3, but installing it made the Android Market disappear.
So I did some research and found a custom ROM (alternate software) for the Novo 7 Paladin put together by pinkflozd at Tablet Republic. It uses Android 4.0.3 and installs Google apps so you can download applications from the Android Market.
The Paladin ROM also grants root access and installs SuperUser and BusyBox and includes a bunch of other tweaks and enhancements and pre-installed apps.
I've had the custom ROM installed on my Paladin for several weeks now, I've just never gotten around to writing about it because it's not very impressive. The ROM is stable and runs quite well, but there are a couple of things that annoy me.
First, the Google Play store is akin to the original 4.0.1 firmware, meaning very few apps show up when running searches. Some Google apps don't show up. Angry Birds doesn't even show up. The MIPS processor is a curse.
Apparently there is a hack to make the Paladin appear as a different device to the Android Market to get additional apps to show up, but it's more trouble than I'm willing to go through.
Secondly, the default Ice Cream Sandwich launcher was removed and replaced with the much-worse Apex Launcher. A launcher is the homescreen and app drawer; it is the heart of the interface and is very important. Having to deal with the buggy Apex Launcher is excruciating.
To be fair, the Apex Launcher offers more features than the default launcher, but there two things that drive me nuts about it: you can't re-size app icons, and the names below the apps disappear in landscape mode. The Apex Launcher uses small app icons that look all pixelated on the Paladin's 800 x 480 resolution screen with its below average viewing angles.
The ICS launcher has larger icons and just looks better and is more polished all around. You'd think being able to switch back to it would be a simple thing, but after a bunch of research there doesn't seem to be an easy way to do it.
Aside from the launcher, it's a good ROM. The minimal app selection is to be expected with the MIPS processor so that's not the ROM's fault. But combine that with the Apex Launcher and I've decided I would rather go back to the stock 4.0.3 software and rely on alternate appstores and say nuts to the Google Play store. Sometimes it's more trouble than it's worth.