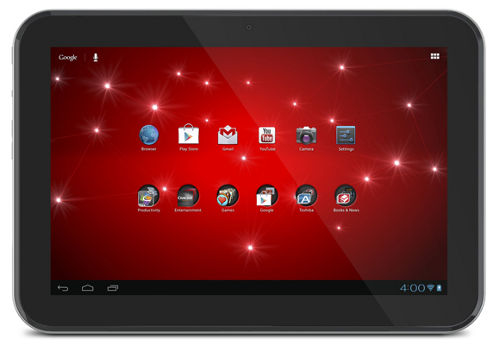 As summer approaches, new tablets are starting to crop up all over the place. Toshiba has three new Android 4.0 tablets set for release. There's a 7.7-inch model, a 10-inch model, and a giant one with a 13-inch display.
The first to hit retailer's shelves is the 10-inch model, the Toshiba Excite 10. It is selling from Amazon for $449 and up. There are three versions with different memory configurations, 16GB, 32GB, and 64GB.
The Toshiba Excite 10 has a 1280 x 800 pixel resolution display with 10-finger multitouch support and Gorilla Glass.
It is powered by a 1.2 GHz Tegra 3 quad-core processor that includes a 5th battery-saver core for improved battery life (the video says the Excite 10 gets 12 hours but the listing at Toshiba says 10 hours, so who knows which…).
Other features include Wi-Fi, Bluetooth 3.0, 1GB RAM, stereo speakers, microphone, and front and rear-facing cameras. The front camera is 2MP; the back is 5MP and is capable of capturing 1080p video and also has an LED flash.
For ports it has a micro HDMI, mini USB, full-size SD card slot, and 3.5mm headphone jack.
The Toshiba Excite 10 comes with the usual suite of Google apps and access to the Google Play store. It also comes with some Toshiba apps, including the Toshiba BookPlace and News Place, a media player, file manager, and service station.
Other pre-installed apps include Kindle, Netflix, Quickoffice, Adobe Reader, Printer Share, Zinio, some games, and more.
The Toshiba Excite 10 is quite a departure from last year's 10″ Toshiba Thrive. The design is a lot thinner and sleeker, and they've dropped the full size USB port and HDMI port, and did away with the user-replaceable battery.
Toshiba Excite Promo Video