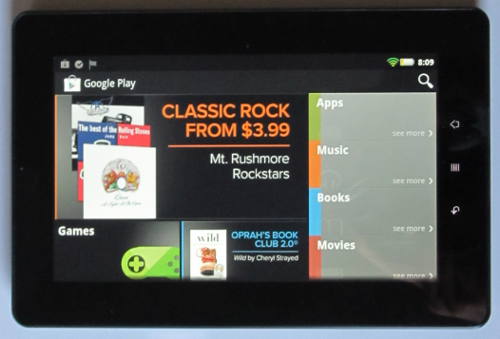 Here's a pleasant surprise for Kobo Vox owners and anyone who buys a new Kobo Vox. Kobo just issued a new firmware update that officially adds the Google Play Store to the Vox for access to over 500,000 Android apps from Google, along with music and movies as well.
The update also adds several Google apps, including Gmail, Google Calendar, YouTube, Google Maps, Google Plus, Google Talk, and ironically Google Play Books, among others.
To update your Kobo Vox, just turn it on and connect to WiFi. A little icon will appear in the upper left corner on the notifications bar. Slide open the notifications menu, tap the update and it will proceed to download and install.
Kudos to the folks at Kobo for pulling this off. Adding official Google support to their tablet is a big win for customers. The Kobo Vox instantly becomes a better tablet and users no longer have to jump through hoops by hacking the Kobo Vox to add the Google Play store unofficially.
This is an interesting approach by Kobo. I can't remember ever hearing of a tablet getting Google support nearly a year after its release. You'd think that Kobo would be about to release a new tablet, one with Android 4.0.
In fact, this may be a sign that Kobo is about to release a new tablet. I don't know how Google licensing agreements work, but it seems like the cost would be too high to bother with a year old device that was already outdated when it was first released. Maybe Kobo's agreement with Google includes a new device about to be released as well. That would make more sense.
Regardless, it's good to see Kobo continuing with their open system. Amazon and B&N would never in a million years partner with Google to officially add Google apps to their tablets. Instead Kobo continues to focus on ebooks and the social and ereading aspects rather than starting their own new Android appstore.