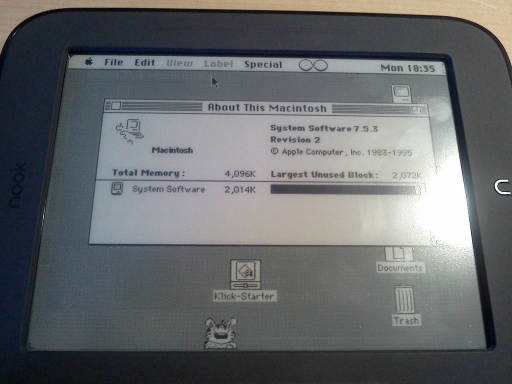 The Nook Touch can do a lot of strange unexpected things with various hacks and mods, like playing videos, but this one takes the cake.
Just when you think you've seen everything, it turns out the Nook Touch can be turned into a Classic Macintosh. Yep. Flying toasters and all.
This was achieved by installing the Mini vMac emulator app on a hacked Nook Touch. You're also going to need a valid 256KB Mac II Rom on hand—that's why I'm not testing this myself.
Needless to say, the Mini vMac emulator app works like a charm on the Nook Touch, albeit in 16 shades of gray.
FlyingToaster goes on to say in this ongoing thread that the $2 paid version of Mini vMac works much better than the free version, and that you can use/play just about any Mac 68k application on the Nook.
That's pretty amazing for a $99 E Ink ereader.
Here is a photo gallery posted by one of the early testers by the name of FlyingToaser.
Update: Here's a video demoing the Mac OS on a hacked Nook Touch. It's strangely reminiscent of those old black-and-white silent films :).