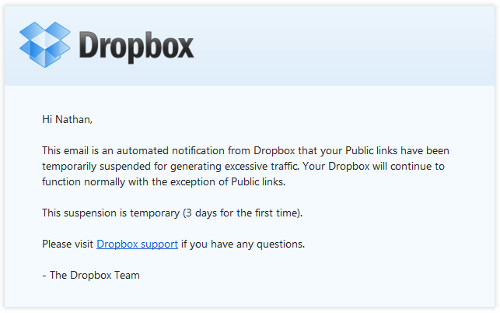 Well, it looks like I won't be recommending Dropbox on this website anymore, at least not for public file sharing. Less than 2 full days after starting to use Public Links for two measly files, Dropbox has temporarily suspended my use of public links for three days for "generating excessive traffic".
For those of you wondering what the heck Dropbox is, it is a file syncing and supposedly "sharing" service for computers, tablets, and phones. You can upload files from your computer and then access them from another device anywhere you have an internet connection, and vice versa. Plus you can get links to share your uploaded files with other people so they can download them too.
But it turns out the sharing part is limited. If you want to share with a large number of people Dropbox will boot you to the curb.
A couple of days ago people were leaving comments on this website about some file downloads not working for the Nook Touch and Nook Tablet. So I decided to just link to my Dropbox folder so I wouldn't have to worry about the links going dead and having to update yet again.
That didn't last long.
It turns out Dropbox will suspend the use of public links if a link generates more than 20GB per day of downloads for free users and 200GB for paid users. At least that's what it says on this Dropbox help page because the email I received from them explained nothing.
But I find that cap limit hard to believe. One file I'm using is only 2.5MB. That would take 8,000 downloads in one single day to reach 20GB. Now the other file is pretty large at 112MB. But even still that file would have to be downloaded 179 times in a 24 hour span to hit 20GB.
I think it is unlikely that that many people are downloading the file given how many people are visiting the page. But I have no way of knowing because Dropbox doesn't give users access to that kind of information.
Regardless, it illustrates the point that Dropbox is a file syncing service and not a file sharing service, despite what their marketing department would lead us to believe.
Imagine if you wanted to upload and share videos you took while on vacation, or of your kids playing sports. Video files are large and often exceed 1GB. Just make sure you don't share them with very many people in one day, especially on Twitter or Facebook, or Dropbox will shut the links down and leave you hanging…