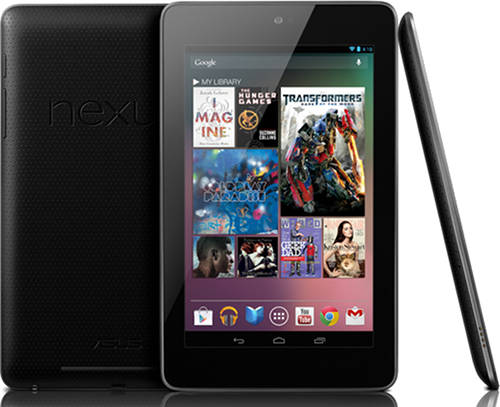 Google finally unveiled their first tablet, and for the most part it lives up to the hype that has been surrounding it all year. It's called the Google Nexus 7 and it is being made by Asus, who is no stranger to Android tablets with their popular Transformer line.
What makes the Google Nexus 7 stand out among the gazillion other Android tablets is the fact it has a 1.2GHz quad-core Tegra 3 processor (that means it's blazing fast) and a 7″ IPS display with a resolution of 1280 x 800. Oh, and the price starts at $199. That's a pretty big selling point too.
Tablets like the Kindle Fire and Nook Tablet that also sell for $199 have slower processors, 1024 x 600 resolution screens, and run Android 2.3 whereas the Google Nexus 7 runs Android 4.1 Jelly Bean, the latest version of Android.
Other 7-inch budget tablets in the sub-$200 range have even slower single-core processors and lower resolution screens in the 800 x 480 and 800 x 600 range. Plus most don't come with support for Google's app store.
The Google Nexus 7 is definitely going to take a good portion of the 7-inch tablet market with its combination of high-end specs and a starting price of $199. It's pretty much a souped up version of the Kindle Fire, complete with a higher resolution screen that should be among the best when it comes to ereading.
Other features for the Nexus 7 tablet include a 1.2MP front-facing camera, scratch-resistant Gorilla Glass, 1GB of RAM, Wi-Fi, GPS, a microphone, NFC support (Android Beam), Bluetooth, and an array of sensors: a magnetometer, gyroscope, and accelerometer. The battery life is said to be up to 8 hours for video and 10 hours for ereading.
Unfortunately there are a couple of details that keep the Google Nexus 7 from being the ultimate 7-inch tablet. First and foremost, it has no memory card slots. It also lacks an HDMI port for connecting to a TV. It doesn't have a rear camera either. They had to cut costs somewhere and unfortunately those are the features that got axed. The lack of an SD card slot is going to be a big negative for a lot of people.
There are two models. One comes with 8GB of internal storage—it sells for $199—and the other comes with 16GB of storage space and it sells for $249.
Both are available for pre-order from Google right now and are expected to ship in 2-3 weeks. The Nexus tablet is being sold in the United States, Canada, and the UK, with additional countries getting added soon.
Google is also giving away a $25 credit for the Play Store with the purchase of a Nexus tablet and a free copy of Transformers: Dark Moon, along with some other free content too. That at least helps defer the annoying $13.99 shipping fee for ordering the tablet.
Google's Nexus 7 Video Promo