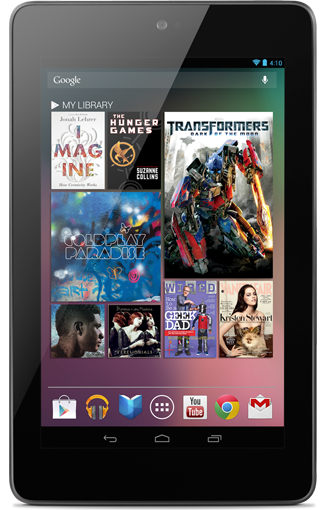 This is a preliminary pros and cons review of the Google Nexus 7 tablet based on the early Nexus 7 reviews from around the web. I'll post a full hands-on review later in July after the device is released. Check back then or subscribe to keep updated.
The entire landscape of Android tablets is going to change now that Google has unveiled its first tablet, which brings with it a lot of other firsts.
The Google Nexus 7 is the first tablet to run Android 4.1 Jelly Bean and is the first 7-inch tablet to come with a NVIDIA quad-core Tegra 3 processor and have a higher resolution 1280 x 800 screen, as opposed to the 1024 x 600 and 800 x 480 screens more commonly used.
In short, the Google Nexus 7 tablet has a lot going for it, especially with the $199 price, but it's far from perfect. Below is an outline of both the positives and negatives of the Google Nexus 7 tablet.
Nexus 7 Pros
Price. The 8GB model sells for $199 and the 16GB model sells for $249.
The Screen. In all the early reviews pretty much everyone unanimously agrees the the high resolution IPS screen is freakin' awesome with its super-wide viewing angles, highly-responsive touchscreen, ultra-crisp text, and vivid colors. With 216 pixels per inch and access to ALL the ereader apps in the Google Play store, there's no question the Nexus 7 makes for an excellent ereader, provided you don't want to read outdoors in bright light of course. The one negative you will hear about the screen, like with all LCDs, is that it is highly reflective.
It's Fast. As expected, the 1.3GHz Tegra 3 processor delivers fast performance and is great for video games. According to benchmark tests, the Nexus 7 is among the fastest Android tablets on the market and is one of the best for playing video games.
Buttery smooth. Android 4.1 Jelly Bean has gotten a lot of under-the-hood performance enhancements to make everything smoother and more responsive.
Lightweight. Most reviewers comment that the Nexus 7 is light and comfortable to hold at just under 12 ounces. That bodes well for ereading.
Build Quality. Most reviews point out that the Nexus 7 feels solid and sturdy and has a pleasant textured back, nothing like most cheap tablets. And it uses scratch-resistant Gorilla Glass.
Android Beam. The Nexus 7 supports Google's NFC-based technology for sending files to other tablets with the same technology by simply touching the two devices together. You can send maps, web pages, photos, and other files.
Nexus 7 Cons
Limited Memory. The biggest negative is by far the fact that Google decided not to include a memory card slot on the Nexus 7. Worse, according to early reports you cannot even connect a card or external drive with a USB cable, despite the fact connecting a keyboard and mouse works just fine.
No HDMI or MHL. Sadly, there's no way to connect the Nexus 7 to a TV to watch movies or play games. Even cheap $89 Android tablets like the IdolPad Plus can do that so it's a pretty big oversight.
The Bezel. Some reviewers like the minimalistic design, but most agree that there's really nothing special about it. It's rather plain and ordinary. Some complain the top and bottom bezels are a little too thick, making the tablet needlessly long. Looking at the pictures, I would have to agree.
Lack of Apps. There's no shortage of apps available in the Android Market with over 600,000, but there is a distinct lack of apps that were designed for use on tablets with high-end hardware. There aren't any games that can push the limit and really show off the Tegra 3 processor.
Content Consumption Oriented. Given the lack of ports and memory expansion, the Google Nexus 7 is designed to be a content consuming device much more so than a content creating device. The Nexus 7 is centrally designed for people to buy things from the Google Play store.
Content Price. Most reviewers that did their homework point out the fact that content selection is very similar among Amazon, Apple, and Google, but Amazon's prices are often lower. Then most reviewers neglect to mention that pretty much all of Amazon's content is available on the Nexus 7 too, except instant videos and prime ebooks.
No Landscape Mode for Homescreen. Hopefully Google changes this once the device is actually released because being forced to use portrait mode for the homescreen is super lame, especially when tablets with 16:10 ratio screens just seem more natural to hold in landscape mode for most tasks.
Hidden Costs. This one I found out myself when I went to pre-order a Nexus 7. They make you pay an extra $13.99 for shipping. Add sales tax on and it's a good $20 to $25 more than the hyped $199. And if you go with the 16GB model, $275 isn't a very good price for a 7-inch tablet without a memory card slot or HDMI port, considering the tablets you can get in the $300-$350 range.
To Buy or Not to Buy?
The Google Nexus 7 is the most hyped tablet of the year so far, and it has a lot to live up to. Virtually all the early reviews say the Nexus 7 is the tablet to buy if you are looking for a tablet with a 7-inch screen.
The Nexus 7 is clearly geared toward being more of a competitor to the hugely successful Kindle Fire and cheap Android tablets in general than the Apple iPad. Right now the Nexus 7 has the Kindle Fire beat on specs and features, and it sells for the same price, so it's really a no-brainer which one to pick. Or is it?
Amazon's track record with product support and customer service is much, much better. Google, on the other hand, has their hands in so many different places and is notorious for dropping their creations without a thought. It makes one wonder if the Nexus 7 will even matter at all to them 4 or 5 years from now.
It's not always about the specs. Personally, I think the high resolution IPS screen is the big news with the Google Nexus Tablet, and it one of the main reasons to choose it over the Kindle Fire or other budget tablet.
But too much is being made about the Tegra 3 processor. For most users the difference between dual-core and quad-core is only going to matter for high-end games. It makes no difference whatsoever for reading ebooks, email, watching videos, playing music, and a number of other tasks. Sure, transitions and load times are faster and web pages may load a second or two faster, but the overall usability is going to be the same.
In the end, the Google Nexus 7 is a really nice tablet for the price, but the lack of a memory card slot, rear-facing camera, and HDMI port keep it from being a well-rounded tablet.
Something like the 7-inch Samsung Galaxy Tab 2 that has all that and more for $249 may end up being the better tablet for some. Heck, two months from now there's a good chance we'll see something very similar spec-wise to the Nexus 7, but with an SD card slot and HDMI port. Plus Amazon is expected to unveil an updated version of the Kindle Fire at any time. Given that, there's a good chance the Nexus 7's glory days could be short lived.