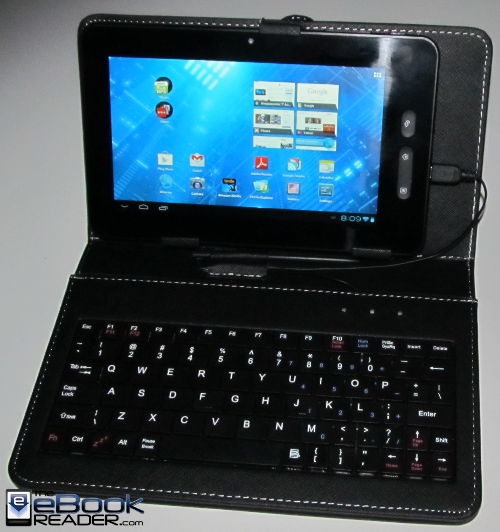 Earlier in the week I posted a review of the $89 Android 4.0 IdolPad Plus tablet. Along with it I received a cover from Idolian with a mini keyboard built-in.
I've been using it for a couple of weeks now and have determined that it's a pretty handy accessory to have with a tablet. I'll definitely be getting a similar one for the Google Nexus 7 after it arrives, especially since they are so cheap. This one is $25 from Idolian and $18 on Amazon. Plus Amazon has similar tablet covers with keyboard cases for around $10.
The cover isn't the greatest quality but it's fairly durable and seems to be put together well enough. It is made of synthetic material. It has three adjustable tabs for holding the tablet in place. There is a latch on the front with a magnet to keep it closed, and there's a prop on the back to set the tablet upright so it looks like a mini laptop. In addition to typing, the prop works great for watching videos and reading at a table or desk.
The keyboard case has a micro USB connector and a stylus included, although the stylus doesn't work with capacitive touchscreens.
The keyboard case isn't for the IdolPad specifically; it will work with most 7″ tablets that have USB host and a micro USB connector. There are other size cases and different USB connectors too, or you can use an adapter.
The only thing that I don't like about the case is that it seems needlessly thick at about 1.5″. When closed there's like a 3/8″ gap between the keyboard and tablet.
I thought it fitting to type this entire review using the keyboard, and yes I did have to use the backspace button a heck of a lot more than usual for fixing typos along the way, and I hit the wrong button at least 10% of the time, but overall it's still better than trying to use the onscreen keyboard for lengthy typing. And it makes it easier to see what you are typing without the onscreen keyboard taking up half the screen.
That being said, I don't think anyone is going to want to write term papers and book reports with it. Maybe if you have small fingers you could. My hands are very large and I can't manage with all four fingers from each hand on the keys like a regular keyboard. I found using two/three fingers with each hand and a hunt and peck method works best for me.
Also, a cool thing with Android is that it is setup well for using an external keyboard. You can use the keyboard's arrows to access and activate most things on-screen, the spacebar to scroll, and the escape button to go to the homescreen.
If you plan on getting one of these keyboard covers for your tablet, first make sure your tablet supports connecting a keyboard (it will say USB host or USB OTG on the box or spec sheet), and second make sure you get one with the right type of USB connector for your tablet. I noticed a lot of them at Amazon don't even specify in the description so you have to read the reviews and look closely at the pictures. USB adapters will work too, of course, but they clutter things up more.
Update: I ended up buying a similar keyboard case for the Google Nexus 7. Here's the post with a video review showing the case in action and how the keyboard works.