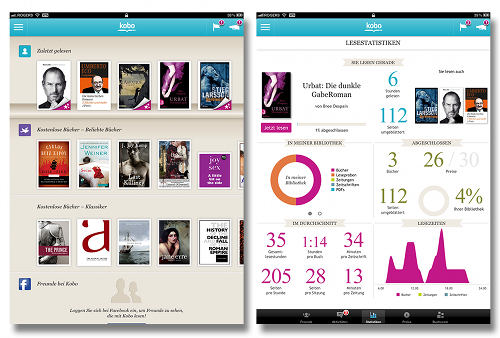 Earlier this week Kobo issued an update for their iPad and iPhone apps that adds some interesting new features.
The biggest change is the addition of Adobe DRM support. This means that Kobo app users can now load encrypted ePub and PDF ebooks into the iOS app that were purchased from outside the Kobo ebookstore. This is a pretty big deal, actually, and isn't something available on Kobo's Android app; hopefully it will be getting Adobe DRM support in the near future too.
In their continuing effort to reach more markets, Kobo also added support for some additional languages, including French, Italian, German, and Dutch.
Other changes include a new software management feature that allows you to easily select which ebooks to store on the device locally, links are now clickable within PDF files, and the usual bug fixes.
The Kobo iOS app is available for free via iTunes. There's also the Kobo Instant Reader, an HTML5 version of the app that uses a web browser instead. It has the benefit of being able to shop and download Kobo ebooks directly from the iPad and iPhone, whereas the iOS app doesn't allow in-app purchases.