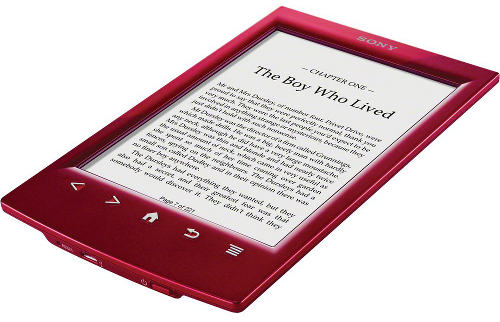 A French website called Ebouquin.fr has post an early review (translated version) of the new Sony Reader PRS-T2, complete with a bunch of pictures (see gallery below).
A couple of things jump out. First, it looks like the black PRS-T2 is the only one with a matte finish. The red one looks quite shiny in the pictures. Also, the close-ups of the buttons reveal they are indeed physical buttons and not capacitive sensors. That's a plus. The reviewer mentions they aren't particularly pleasant to use, however.
Like the overall design, the software also remains mostly the same as the Sony PRS-T1 from last year. There are some subtle differences but overall the interface and menus all look the same. The fonts are the same, the reading features are the same. About the only difference is the addition of Evernote and Facebook.
One new feature with reading is there's an option in settings where you can turn on and off partial page refresh. Partial refresh makes it so pages refresh quicker. All the other mainstream ebook readers have this feature so it's about time Sony added it too. Here's a YouTube video that shows this in action toward the end around the 3:50 mark (the video is in German and is mostly talking).
Overall the Sony PRS-T2 looks like another solid ebook reader from Sony, even though it's more like a PRS-T1-B instead of a new model. It's interesting the reviewer at Ebouquin talks about how the PRS-T2 is a nice ebook reader but it's overpriced at €149 in France compared to the competition like the Kindle and Kobo. Funny, that's exactly how it is here in the US too.
Sony used to be able to get away with charging a premium for their ebook readers, but I don't think their devices are special enough to warrant the higher prices anymore. They used to be the only ones that offered a classy aluminum frame and a touchscreen and audio support, but not anymore.
Sony Reader PRS-T2 Photo Gallery.