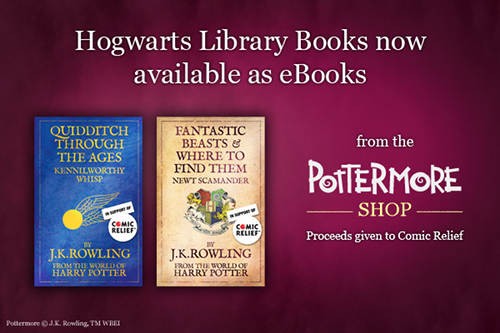 A couple of new ebook titles have been added to the Harry Potter collection this week over on the Pottermore website, the one and only place to buy official Harry Potter ebooks.
The two new ebooks were written by J.K. Rowling herself and are Hogwarts Library Books that are apart of the Harry Potter universe.
The books are titled Quidditch through the Ages and Fantastic Beasts & Where to Find Them. Both have been available in paper form for some time now and are just now becoming available as ebooks.
Quidditch through the Ages explores the history and intricacies of the game of Quidditch, and Fantastic Beasts & Where to Find Them is a guide to the magical creatures found in the wizarding world.
Both ebooks are currently available in English (US and UK) and sell for $3.99 each. Pottermore notes that at least 40% of the sale of these two ebooks will be donated to the Comic Relief charity.
In case you missed it in the earlier announcement when the ebooks were first released, Harry Potter ebooks are compatible with all ebook readers, including the Kindle, as well as computers, smartphones, and tablets with any EPUB-supporting app installed. You can either download the EPUB directly from Pottermore or have them send it to your ebook library for Amazon, Barnes and Noble, Sony, or Kobo.