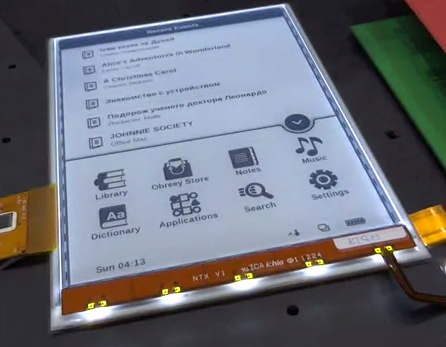 Now that Barnes and Noble has proven there is a market for E Ink ebook readers with a light built into the screen, several ereader companies are looking to create their own lighted ebook readers, including PocketBook.
At IFA 2012 PocketBook had one of their latest developments on hand—an early prototype of a 6-inch ebook reader with LED lights built into the screen.
In fact the implementation of the light looks a lot like what B&N did with the new GlowLight Nook. There are five LEDs located along one edge of the screen, exactly like the Nook, and what appears to be a thin layer over the top of the screen to distribute the light evenly.
It's hard to tell from the video because it's in Russian, but according to the article that goes along with it, PocketBook is planning to release their lighted ebook reader in 2013.
Not only will it have a light, it's also expected to use an HD screen. Regular E Ink screens have a resolution of 800 x 600 pixels, whereas HD screens have a resolution of 1024 x 768.
PocketBook's ereaders are popular in Russia and parts of Europe. They have seemingly withdrawn from the US market however; their latest two ebook readers, the PocketBook Basic and PocketBook Touch, aren't even sold in the US, which is a shame because PocketBook's ebook readers are loaded with software features not available on many of the mainstream ebook readers.
PocketBook's Lighted eBook Reader Prototype