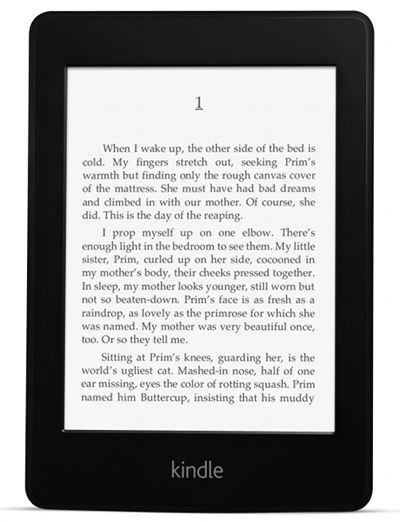 Amazon's new Kindle Paperwhite ebook reader isn't going to be released until the beginning of October, but a number of early reviews are already cropping up from the tech websites that attended Amazon's press event in Santa Monica this past Thursday.
So far the general consensus on the new Kindle Paperwhite's screen has been very positive. In fact I haven't heard nary a complaint about the new screen—the lack of audio support, the decrease in memory, and lack of other features for the new Kindle have brought up grumblings, however.
But as far as the new Paperwhite screen goes, it looks like it's going to be a big step forward for ebook reader screens. That's something we've all been waiting for given the stagnant nature of E Ink in general.
CNet points out the Kindle Paperwhite's lighting is more uniform than the GlowLight Nook Touch and that the boost in screen resolution is nice for smaller fonts and details on images.
Wired agrees about the Paperwhite's light being superior to the Nook Touch:
The Paperwhite's glow is nearly perfect. The light just seems to envelop the screen. You can detect the lights if you stare at the bottom of the screen — they're faint, but they're down there. But you have to really look for them because Amazon has done such a fine job hiding the source but letting the light shine through.
Engadget says that comparing the contrast of the Paperwhite Kindle with an older Kindle is like night and day. They also mention that there doesn't appear to be any degradation in sharpness due to the light layer, which is a common complaint with the GlowLight Nook Touch.
Gizmodo says the "Kindle Paperwhite's screen is so awesome you wouldn't believe it's e-ink." And that "It's crisp, clear and delightfully bright without feeling like you're burning your eyes with liquid crystal daggers."
Last but not least, TechHive has an informative initial review. One thing of note that isn't mentioned elsewhere is the screen improvements are much less evident when the Paperwhite's light is off than when the light is on. But with the light on, "the Kindle's display appeared white, and not the tinted, newspaper-gray color you may be used to seeing on an E Ink display."
There are several videos on YouTube showing the new Kindle Paperwhite in action; here are two of the better videos I could find…
CNet's Initial Review
Engadget's Hands-on