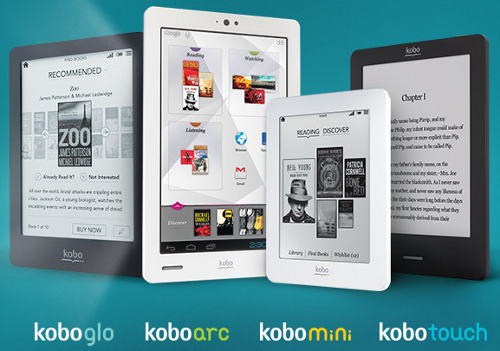 For some odd reason Kobo decided to announce their new ereaders out of the blue on the same day that Amazon demoed their new line of Kindles at a planned press conference with dozens of tech reporters in attendance. As a result, the new Kindles are getting a lot more coverage. Kobo is often overshadowed by Amazon so that's nothing new.
In case you missed it, Kobo's new line of ereaders include the Kobo Mini, a pocket-sized basic ereader with a 5″ screen; the Kobo Glo, a 6″ ebook reader with an HD E Ink screen and built-in front light; and the Kobo Arc, a 7″ tablet with a high resolution IPS screen and Android 4.0 operating system.
A couple of videos have turned up on YouTube showing Kobo's new gadgets. First, here's a video posted by Indigo, a Canadian retailer that sells Kobo ereaders.
First Look at Kobo Glo and Kobo Mini
The Kobo Glo has the same HD screen as the new Kindle Paperwhite, but the front lighting is different. It will be interesting to compare the two side-by-side after they are released in October.
Here's a shaky and out-of-focus first look at Kobo's new Android tablet, the Kobo Arc. The screen has the same resolution as the new 7″ Kindle Fire HD, and both have similar dual-core processors. But the Kindle Fire comes with double the storage space for the price. The Kobo Arc has the advantage with its open Android 4.0 operating system, whereas the Kindle is closed off.
Kobo Arc Hands-on by MobileSyrup
Here's another video about Kobo's new ereaders and tablet.
Kobo launches Arc tablet, two new e-readers