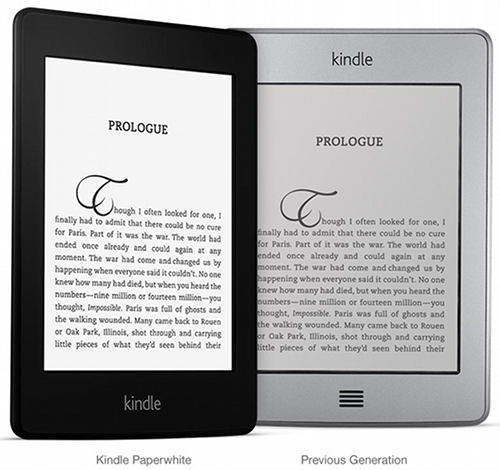 The other day I noticed that Amazon has a picture (shown above) comparing the new Kindle Paperwhite's screen with the Kindle Touch's screen over on the product description page for the Kindle Paperwhite.
The picture doesn't illustrate the difference in contrast very well but it does show how much of a dramatic difference there is in terms of screen background color.
The light-colored pigment of E Ink is notorious for being more gray than white. This is good in some ways because it makes reading in bright light easier on the eyes (ever try to read off of gleaming white paper with the sun blaring on it—it's not pleasant). But the gray background of E Ink can be too dark at times, especially in lower light, and the contrast is limited by this.
The Kindle Paperwhite on the other hand steps closer to the look of actual ink on paper. Combine this with the fact that it uses a higher resolution screen than earlier Kindles and it equates to a 25% increase in contrast, with 62% more pixels.
Amazon hasn't revealed the exact nature of their Paperwhite display, whether it's just regular Pearl E Ink panels or some new improved version of Pearl, but they do describe how the front lighting works.
According to Amazon, they've been working on the Kindle Paperwhite for over two years to perfect the uniformity of the built-in front light. The way it works is they flatten out fiber optic cable into a thin sheet that goes over the top of the display, called Light Guide, and use that to evenly distribute the light across the screen by using "nanoscale optical diffractive patterns", which direct the light toward the screen instead of outward toward your eyes like with LCD.
The Kindle Paperwhite has four LED lights at the bottom of the display that are hidden from view. They require a very small amount of power so the affect on battery life is fairly minimal. Given how well the Light Guide works, and the fact the brightness of the light can be adjusted, Amazon expects users to leave the light on all the time.
Even with the light on, Amazon says the Kindle Paperwhite's battery can last 8 weeks on a single charge based on 30 minutes of reading per day with the front light brightness set at 10.
So far initial reviews of the new Paperwhite screen have been overwhelmingly positive. It certainly looks like a step forward for E Ink displays in general.
Personally, I can't wait to see what the new Paperwhite screen looks like in person when I get one in to review. I'll post some direct comparisons with it and regular E Ink when it arrives, as well comparisons between it and the Kobo Glo and GlowLight Nook Touch. Subscribe to keep updated!