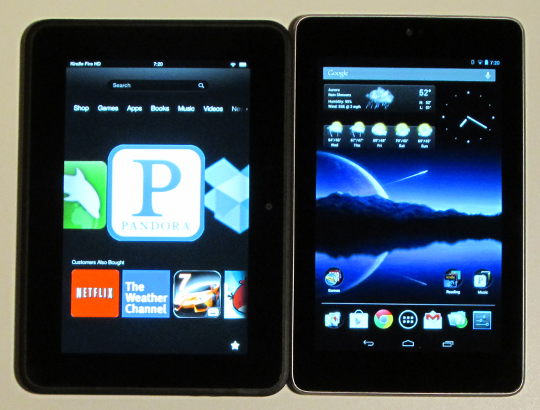 For this comparison review I'm pitting the 7" Kindle Fire HD against the Google Nexus 7 to outline the main advantages and disadvantages of two of the most popular 7-inch tablets on the market.
I've also included a list of similarities between the two, a spec sheet comparison, and a video review showing the Kindle Fire HD and the Nexus 7 side-by-side.
Also, here's the link to my hands-on Google Nexus 7 review for more specific info on it, along with a video walkthrough. I haven't finished putting together the written review for the Kindle Fire HD just yet, but you can find more info here on the Kindle Fire HD section of the blog, which includes a video review and first impressions post.
Similarities
Both tablets have 7-inch IPS screens with the same 1280 x 800 resolution.
Operating systems are based on Android.
Same price for two models, $199 and $249.
Both have front-facing cameras of similar quality.
Neither devices have memory card slots.
Neither officially support Adobe Flash but both can sideload it and it works okay.
Access to streaming video and music apps.
Both can be rooted.
Bluetooth and Wi-Fi.
Headphone jack and mic.
Comparable battery life.
Kindle Fire HD Advantages
The Kindle Fire HD can connect to a TV thanks to its micro HDMI port.
Comes with double the storage space for the price—16GB and 32GB versus 8GB and 16GB.
Screen quality is better (don't take my word for it; check out this technical report).
2 speakers are much louder and sound better than the Nexus 7's single rear speaker.
Stronger Wi-Fi signal with dual band antenna.
Amazon's video store provides access to 120,000 movies and TV shows.
Unlimited free streaming of instant videos with Amazon Prime membership.
Borrow one ebook for free per month with Amazon Prime membership.
The homescreen carrousel is a different approach (I suppose this is an advantage for some folks even though I don't care for it personally).
Built-in parental controls to limit access to the web browser and other apps (the Nexus 7 can do this too but it requires a paid app).
X-Ray for movies.
X-Ray for ebooks.
Larger bezel makes it easier to hold, especially in portrait mode.
No annoying screen flicker at lower brightness (my Nexus 7 screen flickers like crazy sometimes; it is especially noticeable when the screen background is white).
Amazon's prices are typically lower for digital content.
Reading view for the web browser reformats the page to simple text.
It doesn't get nearly as hot on the back as the Nexus 7.
Free shipping.
Kindle Fire's reading app has more features than the regular Kindle for Android app, so if you primarily read Kindle content you're better off getting an actual Kindle device than running a Kindle app on the Nexus 7.
Google Nexus 7 Advantages
Open Android 4.1 Jelly Bean operating system (a major advantage over the Kindle's heavily modified Android 4.0 operating system).
Quad-core processor is faster than the Kindle Fire HD's dual core processor.
Google's appstore has over half a million more apps than Amazon's appstore.
Support for all of Google's apps (this is a big advantage).
Supports the Amazon appstore and Amazon services, which pretty much gives it access to all of the same content as the Kindle Fire HD, with the exception of Amazon's videos, which can be accessed with a web browser but not downloaded (Amazon is expected to release an Android video app soon since they recently released one for Apple devices).
Voice search.
Speech to text (voice typing).
Supports installing alternate keyboards (for some annoying reason Amazon forces users to use their on-screen keyboard only).
USB OTG support for connecting keyboards, game controllers, etc, to the micro USB port, and even external hard drives and sd cards with the Nexus 7 Media Importer app.
The Nexus 7 is about a zillion times more customizable, and unlike the Kindle Fire HD, it supports widgets, folders, custom wallpapers and lockscreens, and is generally a lot more pleasant to deal with than the Kindle's modified operating system that funnels everything to Amazon to buy stuff.
GPS.
NFC chip.
Bluetooth connects automatically and drops less frequently.
Material on the back of the device feels nicer and is a lot less prone to scratches and smudges.
No sponsored screensavers and advertisements (costs $15 extra to remove on Kindle Fire HD).
Comes with AC charger (the Kindle Fire HD does not; it costs $10 more).
Smaller and more pocketable.
Lighter.
Recent apps list makes it easy to jump back and forth between apps.
Supports more languages.
Kindle Fire HD vs Nexus 7: Specs
| | Kindle Fire HD | Nexus 7 |
| --- | --- | --- |
| Screen Size | 7-inch IPS with 10 point touch | 7-inch IPS w/ Gorilla Glass and 10-point touch |
| Resolution | 1280 x 800 | 1280 x 800 |
| Processor | 1.2 GHz dual-core OMAP4460 | 1.3 GHz quad-core Tegra 3 |
| Operating System | Android 4.0 ICS (modified) | Android 4.1 Jelly Bean |
| Storage | 16GB/32GB, no memory card slot | 8GB/16GB, no memory card slot |
| Memory | 751 MB RAM | 1GB RAM |
| Wireless | WiFi, Bluetooth | WiFi, Bluetooth |
| Front Camera | Yes | Yes |
| Rear Camera | None | None |
| GPS | No | Yes |
| Input/Output | Micro HDMI port, micro USB port, 3.5mm headphone jack, 2 speakers, mic | Micro USB port (host), 3.5mm headphone jack, 1 speaker, mic |
| Battery | 9-11 hours | 8-10 hours |
| Weight | 13.9 oz (395 grams) | 11.9 oz (340 grams) |
| Thickness | 0.4″ (10.3 mm) | 0.4″ (10.45 mm) |
| MSRP | $199-$249 | $199-$249 |
Kindle Fire HD or Nexus 7?
My opinion is the Kindle Fire HD is more suited for people that fall into any of these categories: those who are new to tablets; those that are less technically inclined and want something easy to learn how to use; for people who already have a lot invested in Amazon's digital content, especially movies; or for people who want to be able to connect to a TV.
The Google Nexus 7 is more suited for someone who likes more freedom for customization; for someone who wants a more open device with more overall software features; for those that want access to the larger selection of apps; for spec junkies who want the extra speed of the quad-core processor; or for those who have already owned an Android tablet or phone (if a person has already owned an open Android device, the Kindle Fire will likely feel too limited and closed-in).
The bottom line is this: both tablets offer something the other does not, and both are great values for the price compared to most everything else out there so you can't really go wrong with either of them. The Kindle Fire is more limited from a software standpoint, but if you are willing to give up the warranty you can hack it to get access to Google Play for the same selection of apps as the Nexus 7.
Video Review: Kindle Fire HD vs Google Nexus 7