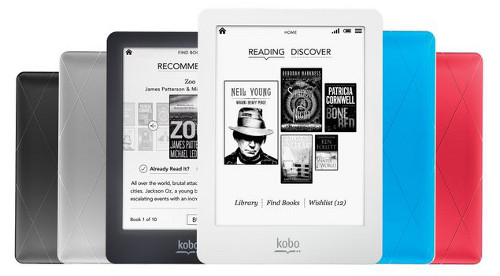 Kobo's latest E Ink ebook readers, the Kobo Glo and Kobo Mini, are now available from certain retailers in Canada and the United Kingdom, and possibly some other European countries will be getting them soon too.
Neither of Kobo's new ereaders have reached the United States yet, however. Best Buy has them listed but they aren't available for purchase or even pre-order yet. The delay really isn't surprising because this always seems to happen in the US every time Kobo releases a new gadget—there must be some reason behind it.
Update: Speak of the devil, as of this afternoon Best Buy has the Kobo Mini in white and black available for order now.
In Canada you can find the Kobo Glo and Kobo Mini at Indigo Music & Books, Future Shop, and Best Buy. In the UK they are available from WHSmith.
The Kobo Glo is a 6-inch ebook reader that comes equipped with a frontlight for reading at night, much like the GlowLight Nook Touch and new Kindle Paperwhite. It sells for $129 in the US and Canada, and £99 in the UK.
The Kobo Mini is a smaller ebook reader with 5-inch screen and no frontlight, although it does have a touchscreen. It sells for $79 in the US and Canada, and £59 in the UK.
Kobo's new tablet, the Kobo Arc, is not available yet. It's expected to start shipping in November.
Once Kobo's new ereaders become available in the US I'll post the usual reviews and walkthroughs. And it will be fun to compare the frontlight on the Kobo Glo with the Kindle and the Nook. Stay tuned for more.