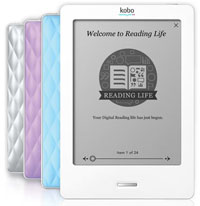 If you own a Kobo Touch ebook reader you can expect it to get a firmware update this week, firmware version 2.1.4.
Hopefully this update goes a lot smoother than the 2.0 update that gave many Kobo Touch owners problems over the summer.
This isn't a major update by any means, but it does add the following new features.
Kobo Touch Firmware 2.1.4:
Install dictionaries in your preferred languages (available under settings, then language).
Enjoy faster page turning and book loading.
Benefit from better text selection, highlighting and Wi-Fi performance.
Watch a new Quick Tour (available in Help).
There are some additional changes not mentioned in the release notes too, such as improved book shelves.
Kobo also says that moving forward they are going to be distributing firmware update packages to devices based on specific criteria, making the updated incompatible with certain devices, so they don't support sideloading updates—it probably has something to do with the fact Kobo sells their ereaders in different countries.
To download the update just hit the sync button on your Kobo Touch or you can use the Kobo Desktop Software. Kobo is doing a staggered release of the update so it may be a few days before it's available.