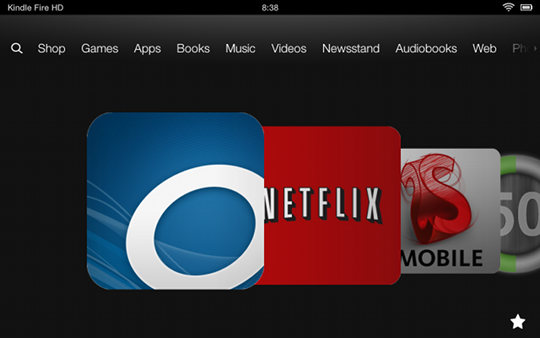 Last week OverDrive announced that the OverDrive Media Console app for Android is now officially available for the Kindle Fire and Kindle Fire HD tablets directly from the Amazon appstore. Previously the app worked but it had to be sideloaded; now it is officially supported.
With the OverDrive app you can download ebooks and audiobooks from libraries for free. Plus the app supports sideloading ePub ebooks. This is bigger news than it may sound.
Amazon's appstore carries several ePub reading apps, but Amazon intentionally hides most of them from appearing on the Kindle Fire tablets, saying they aren't compatible, when they clearly are because they work just fine once sideloaded.
Now Kindle Fire owners don't have to mess with sideloading an ePub reading app if they don't want to; they can just load in the OverDrive app from the Amazon appstore.
Unfortunately the description for the OverDrive app says it can only sideload DRM-free ePub ebooks. The app supports Adobe DRM for library ebooks so that seems like a nonsensical limitation.
Nevertheless, the OverDrive app makes it easy to search for and download ebooks and audiobooks from libraries directly to the Kindle Fire itself. You can still rout borrowed library ebooks through your Kindle account to get them that way too, but not all libraries have as many Kindle library ebooks as Adobe ePub, so this provides access to all of a library's available ebooks, not to mention audiobooks.
The OverDrive reading app has plenty of customizable features too, so that's a plus. There are different font choices, sizes, themes, line spacing and margin adjustment, bookmarks, dictionary look-up, and sharing options. No notes or highlights though.