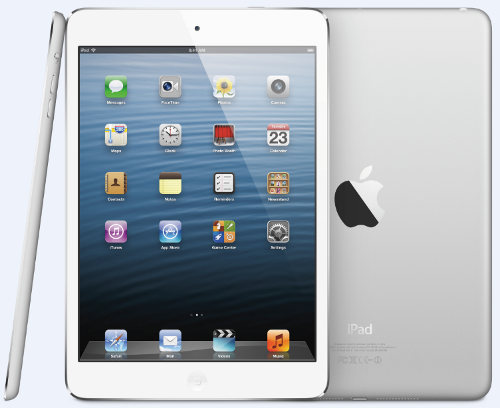 The rumors have been proclaiming a smaller iPad was in the works all year, and it turns out they were indeed correct. Today Apple finally announced a smaller version of the most popular tablet in the world, along with an updated version of the larger iPad with double the graphics and processing power of the iPad 3.
The iPad Mini is a little late to the game as far as 7-inch tablets go, but Apple looks to capitalize on the lower-end market nonetheless. There's only one problem: the iPad Mini has an average screen and a ridiculous price tag.
It is essentially a trimmed down version of the iPad 2. It has the same screen resolution and the same dual core A5 processor, and costs almost as much.
The screen resolution is the main disappointment. The iPad Mini has a 7.9-inch screen with a resolution of 1024 x 768. That's only 162 pixels per inch. Compare that to the larger iPad that has 264 pixels per inch. 102 pixels less per inch is a huge difference.
To put it in perspective with the competition, 7-inch Android tablets like the Kindle Fire HD and Google Nexus 7 have 216 pixels per inch. And the 7-inch Nook HD has 243 pixels per inch.
This is especially important when it comes to reading because the higher the pixel density is, the clearer and sharper text appears. Given the iPad Mini's smaller size, I thought ereading would be a bigger focus. But apparently not.
Other specs for the iPad Mini include the usual 10 hour battery life, Bluetooth, Wi-Fi, optional LTE, it has a 1.2MP front camera and a 5MP rear camera, a single speaker, a mic, headphone jack, and it at weighs in at 10.88 ounces and is 7.2mm thick, making it 23% thinner and 53% lighter than the regular-sized iPad.
Pre-orders start on Friday. The 16GB model sells for $329 and goes up $100 per increment for 32GB and 64GB. The Wi-Fi model starts shipping on Friday November 2nd. The Wi-Fi plus Cellular model starts at $459 for 16GB, and starts shipping a couple weeks after the Wi-Fi model.
Before the announcement I was planning on getting an iPad Mini to review from entirely an ereading perspective given the smaller size is more suited for it than the larger iPad, but there's no way I'm going to pay $329 for a tablet with that screen resolution, only 16GB of storage space, no memory card slot, and no HDMI port.
That won't stop Apple from selling millions upon millions of them, however.