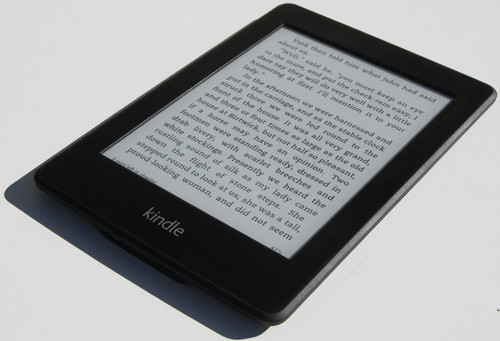 Below is a list of 45 tips, tricks, and shortcuts for the Kindle Paperwhite. Please add any other tips that you know or come across in the comments section at the bottom of the page.
Update: Checkout my Kindle Tips and Tricks Advanced User Guide available on Amazon. The ebook is designed specifically for Kindles and contains many of the tips listed below, along with dozens of additional tricks and resources to help get the most out of your Kindle.
Getting Started Tips and Resources
1. Kindle Paperwhite Help and Support – Here's the link to the full Kindle Paperwhite help section at Amazon with all the getting started guides and troubleshooting articles. You can also contact customer service from there.
2. User Guide – Here's the Kindle Documentation page at Amazon with all the Kindle user guides and quick start guides downloadable as PDF files.
3. Unsubscribe from Special Offers (Advertisements) – You can remove the ads on your Kindle Paperwhite by visiting the Manage Your Devices page at Amazon and editing the Special Offers field. It costs $20 plus tax to remove them.
4. Sleep Mode – Tap the power button and release. Sleep mode shows ads or screensaver images, depending on the model.
5. Turn Kindle Off – Press and hold the power button for 7 seconds then release. When powered off the screen is totally blank.
6. Restart Kindle – Press and hold the power button for approximately 20 seconds then release. A Kindle logo and progress bar will appear upon reboot. Restarting is the first thing you should do if your Kindle ever starts acting slow or unusual.
7. Free Kindle eBooks – Here's the page at Amazon that lists the top 100 free Kindle ebooks, and here is the free classics section. Plus here's a list of websites with free ebooks for Kindles.
8. Kindle Daily Deal – Every day Amazon offers an ebook deal on their Kindle Daily Deals page.
9. Games and Active Content – Aside from books, there are games and active content available for Kindle ereaders. Here's the section supported by the Kindle Paperwhite.
10. Getting Free Library eBooks – Here's the tutorial on how to borrow ebooks from public libraries for free to read on the Kindle Paperwhite.
Kindle Paperwhite Settings
11. Change Kindle's Name – You can edit the device's name that appears in the upper left corner on the homescreen by going to Settings > Personalize your Kindle > Device Name. This can also be done from the Manage Your Devices page at Amazon.
12. Change Kindle's Email Address – All Kindles come with a free email address that you can use to send personal documents and ebooks to. The unique address can be modified from the Personal Documents Settings page at Amazon.
13. Change Language – The Kindle Paperwhite supports multiple languages. The preferred language can be changed in Settings >Device Options > Language and Dictionaries.
14. Change Dictionary – The dictionary can be changed in Settings >Device Options > Language and Dictionaries. You don't have to use the exact dictionaries that come with your Kindle, you can install other ones from the Kindle Store as well.
15. Check Storage Space – The available storage space can be found by going to the settings menu from the homescreen and then tapping the settings icon again and hitting "Device Info".
16. Parental Controls – From the settings menu under device options you can enable parental controls to restrict access to the web browser, Kindle Store, and archived items.
17. Password Protection – From the device options section of the settings menu you can choose to protect the Kindle with a password that is required whenever the device is turned on.
18. Airplane mode – Wireless, and thus airplane mode, can only be turned on and off from the setting menu accessible from the homescreen.
Kindle Tips
19. Bypass Screensaver Ads – If you don't want to pay Amazon an extra $20, you never have to see a screensaver ad if you simply turn the device off instead of using sleep mode, and it only takes a few extra seconds (see #5). Plus it takes you right back to reading when you turn it back on instead of requiring a swipe of the screen.
20. Remove Recommended Titles – When using cover view on the homescreen, Amazon places four recommended ebooks at the bottom that takes up a bunch of room. You can remove these by enabling parental controls and restricting the Kindle Store.
21. Homescreen/Library Navigation – It's not very obvious but you can tap the little page number on the homescreen to bring up a Go To option to quickly jump to a page or letter in the alphabet.
22. Homescreen Book Progress – On the homescreen there's a little dotted indicator below a book that shows how far you are through the book.
23. Screenshots – To take screenshots tap the upper right and lower left corner simultaneously, or the upper left corner and lower right. They get saved on the root of the Kindle drive and you have to plug it into a computer to access them.
24. Hyperlinks – In books, hyperlinks are active. You just have to tap them to activate them, even though they may just look like regular text. Then you can use the back button to go back.
25. History/Back – The back button on the menu bar also doubles as history. If you are jumping around a lot in a book, the back button will remember where you've been and take you back to all the spots you've visited.
26. Reset Reading Progress – Open a book and type the following exactly as is into the search box to reset the reading progress timing ;ReadingTimeReset
27. Firmware Updates – Generally Kindle devices update automatically without any intervention on the user's part, but if you don't have internet access or want to manually install the updates, here's the Kindle firmware updates page at Amazon.
28. Report Content Errors – If you notice a typo or other error while reading, highlight it and then select "Report Content Error" from the more section.
29. Full and Partial Page Refresh – In Settings > Reading Options you can choose to use full or partial page refresh. Partial is faster and doesn't have the black flash when turning pages but once every sixth page, but full is better for clearer, crisper text. If you are having problems with sections of the text appearing less bold on parts of the page, try switching to full page refresh.
30. Skip Articles/Sections in Periodicals – When reading periodicals you can quickly jump from article to article by swiping up on the screen to go forward and swiping down to go back.
31. Format Conversion – Amazon will convert a number of formats to the Kindle format for free. All you have to do is use a Send to Kindle app (below) or email them to the Kindle's free email address (#12). You can also convert formats yourself. See the Kindle Format Conversion Guide for more info.
32. Send to Kindle – Amazon makes it easy to send personal documents and ebooks to Kindles with their Send to Kindle apps.
33. Book Progress Indicator – When reading a book, you can tap the book progress indicator in the lower left corner to switch between time left in chapter, to time left in book, as well as location.
34. Image Zoom – Images in books can be zoomed in if you hold down on them.
35.Panning Tables – Sometimes you'll come across a table in a book that if you hold down it will bring up a panning option where on you can pan around the screen to get a better look.
36.Searches – When running a search, there's a list next to the search bar that lets you have the option of choosing where to search from, including My Items, Kindle Store, Dictionary, or Wikipedia.
37.Permanently Delete a Title – You can permanently delete sideloaded content from the Kindle, but if it's Kindle content it can only be moved to the cloud for archiving. If you want to permanently delete a book for good you have to login to your Amazon account and choose to delete the title from the list on the Manage Your Kindle page.
38. Add Bookmarks – When reading, you can quickly add or remove bookmarks by tapping the top right corner of the page.
39. Kindle Highlights on the Web – You can access and edit all your Kindle highlights and notes using a web browser.
40. Send Web Pages to Kindle Paperwhite – Amazon recently released a Send to Kindle web browser extension for the Google Chrome web browser that lets users send web articles directly to a Kindle.
Extras
41. Jailbreak Kindle Paperwhite – Here's the thread at MobileRead with everything you need to jailbreak the Kindle Paperwhite.
42. Teardown – Here's an entertaining disassembly video that reveals the Paperwhite's internal components.
43. Skins – DecalGirl.com already has skins for the Kindle Paperwhite available. Last year I reviewed their black woodgrain skin for the Kindle Touch and it was quite nice.
44. Magnetic Covers – The Kindle Paperwhite has a magnet in the lower right corner that automatically wakes the device and puts it to sleep when using Amazon's Kindle Paperwhite covers.
45. Homemade Magnetic Covers – If you already have a cover for your Kindle Paperwhite, you can simply stick a small magnet in the lower right corner to make use of the auto sleep, auto wake feature.