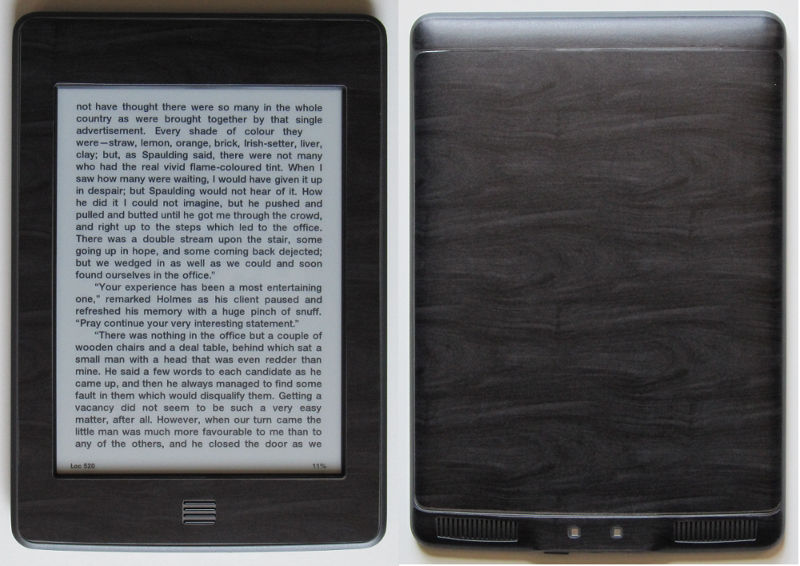 DecalGirl sent my a couple of skins to review, and one of them is a black woodgrain skin for the Kindle Touch. Click the picture above for a closer look.
I wanted to make sure to put the skin on as straight as possible so I sat down and really took my time putting it on. And I couldn't be happier with how it turned out. The skin fits perfectly and I really like the black woodgrain design and the matte finish. It's definitely my favorite skin that I've tried so far.
I've written reviews in the past for a couple of GelaSkins for the Kindle Fire and Nook Tablet. I also got one for the Sony PRS-T1 but never got around to writing a review for it because I hated the design I chose so the skin didn't stay on very long.
Choosing the proper skin design for an ebook reader is important. You don't want something that is too distracting to the eye, at least I don't.
Another thing to consider, there's a weird visual effect with ebook readers that makes text appear darker when the ereader is black opposed to white. So black skins are a popular choice.
DecalGirl has a solid black skin but it's about as boring as the Kindle Touch's gray finish so I opted for the woodgrain design. It still achieves the same contrast-improving effect and the design is subtle enough that it doesn't distract. I really like it.
DecalGirl skins come with the option for a high gloss finish or a matte/satin finish. I opted for the matte finish, of course, because a reflective border can be distracting on an ebook reader (the Sony PRS-T1 is proof of that), especially when using a reading light. The matte finish on these skins is really nice. They have a pleasant feel and don't have an odd texture like some matte finishes. Plus they are non-reflective. The Kindle's screen shows more glare under a light than the skin does, and that's not much.
The Kindle Touch skins cost $14.99. DecalGirl.com has skins for a bunch of other ereaders and tablets and gadgets too. Ebook reader skins are $14.99. Tablet skins are $19.99. Plus you can get an extra 10% off with code DECAL10. DecalGirl skins sell from Amazon as well.
I've got another skin for the iPad 3 that I'll post a review for soon. It has a glossy finish so it will be interesting to see the difference between glossy and matte.